INSULATION REMOVAL COMPANY
When it comes to residential insulation removal, a professional contractor should be managing the project from start to finish. Starting with a thorough inspection of the space, a professional contractor can determine if existing insulation does require removal and how best to expedite.
With insulation removal in Toronto and the GTA, it's also important to identify other energy efficiency issues that could use improvement. Finally, it's important to decide on re-installation options for new material.
Why you might need to remove your old insulation
Because every home is different, the reasons for removing insulation will also be different. In the majority of cases, special equipment and methods are required for safe, clean insulation removal.
Existing Insulation has been contaminated by rodents
Existing Insulation has been trampled on (Insulation looses R- Value when compressed)
A renovation requires insulation to be removed (a smart contractor knows how messy removing insulation can be without the proper equipment.)
Fire or water Damage has occurred to the existing insulation
Rewiring a house, most electricians will charge a significantly higher rate if the insulation isn't removed.
About 20% of homes do not have proper ventilation, because the vents are covered by old insulation. Removing it can significantly add to the longevity of your home.
Can blown in insulation be removed?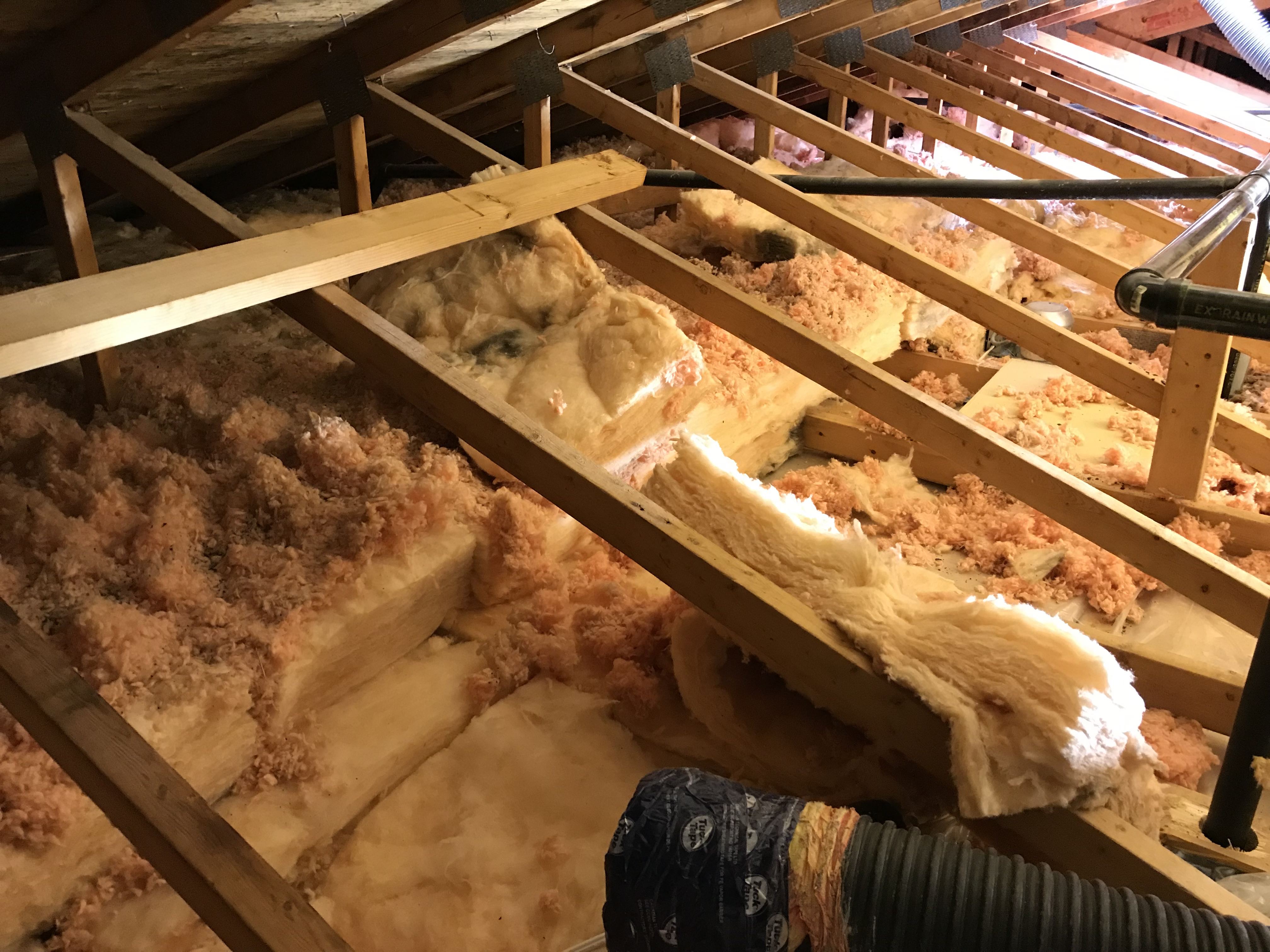 As a rule, a professional contractor should be removing blown-in insulation – this should not be a DIY project for anyone without experience. This work is messy, difficult, and often dangerous. It must be done right so that all remnants of old insulation are removed. Insulation removal needs high-capacity vacuum equipment and proper safety gear – the risk of contaminated materials or airborne particulates is too hazardous for the average homeowner. Better safe than sorry. Often there's a need for additional equipment like pressure washers and/or disinfecting detergents.
What if you find asbestos in insulation?
In older residential homes, it's not uncommon to find asbestos-laden insulation. This should be considered hazardous, and especially if asbestos fibres have been disturbed. Asbestos will pose a health risk ONLY when fibres are airborne. If asbestos-laden insulation is suspected, a qualified removal specialist must be contracted for removal. Any effort to remove asbestos material with a DIY approach is unacceptable – the health risks are too high and the ensuing problems are not worthwhile. Vermiculite-based insulation may also contain asbestos – it's best to avoid exposure.
Can you install new insulation over old insulation?
In principal, it's possible to install new insulation over old insulation. However, this is NOT recommended when the existing insulation is wet or has been wet. With an insulation expert on hand, all problems and issues can be addressed, sourced, and repaired. With deteriorating or contaminated insulation, the source of the problem must be identified and a remedy must be expedited. Insulation professionals will also recommend proper air sealing before installing any new insulation – air leakage will compromise insulation performance and energy efficiency.
Check out the cost of Attic Insulation in this blog.
The DIY approach VS the professional approach
With home insulation, a professional contractor will deliver the best results. In particular, the removal of old insulation should be managed professionally. A DIY approach, by an inexperienced homeowner, can only pose dangers. Yes – homeowners can save money with many DIY projects, but removing insulation has too much potential for disaster. It's best to do it right from day one of the project. Nothing beats a professional approach – with special equipment, a powerful vacuum system, and safe disposal. Professional removal also ensures a clean space for re-installation.
How much does it cost to remove old insulation?
The cost of removing old insulation in Toronto and the GTA, will depend on the scope of work and extent of repairs. At Four Seasons Insulation, we can assess the space, recommend options for removal, and suggest options for upgrading with new insulation materials. As mold experts, we also deal with material that has been contaminated, providing safe and effective removal.
Find out more by calling Four Seasons Insulation at 416-727-4181 or visit our company website.
Learn more about: