INSULATION REMOVAL COMPANY
When it comes to residential insulation removal, a professional contractor should be managing the project from start to finish. Starting with a thorough inspection of the space, a professional contractor can determine if existing insulation does require removal and how best to expedite.
With insulation removal in Toronto and the GTA, it's also important to identify other energy efficiency issues that could use improvement. Finally, it's important to decide on re-installation options for new material.
When Do I Need Insulation Removal?
Because every home is different, the reasons for removing insulation will also be different. In the majority of cases, special equipment and methods are required for safe, clean insulation removal.
Existing Insulation has been contaminated by rodents
Existing Insulation has been trampled on (Insulation looses R- Value when compressed)
A renovation requires insulation to be removed (a smart contractor knows how messy removing insulation can be without the proper equipment.)
Fire or water damage has occurred to the existing insulation
Rewiring a house, most electricians will charge a significantly higher rate if the insulation isn't removed.
About 20% of homes do not have proper ventilation, because the vents are covered by old insulation. Removing it can significantly add to the longevity of your home.
Reasons For Insulation Removal In Toronto
It is not always necessary to remove all of your attic insulation, but with years of weather damage, worn out insulation, or the need for more insulation, insulation removal is something you may want to consider.
Reasons your old insulation needs to be removed to improve your home comfort
Home insulation becomes less effective as it ages and deteriorates
Smoke or moisture damaged insulation needs to be replaced
Replacing old insulation will improve home comfort
Insulation contaminated by asbestos, mold, or animal feces will lower your air quality
Can blown in insulation be removed?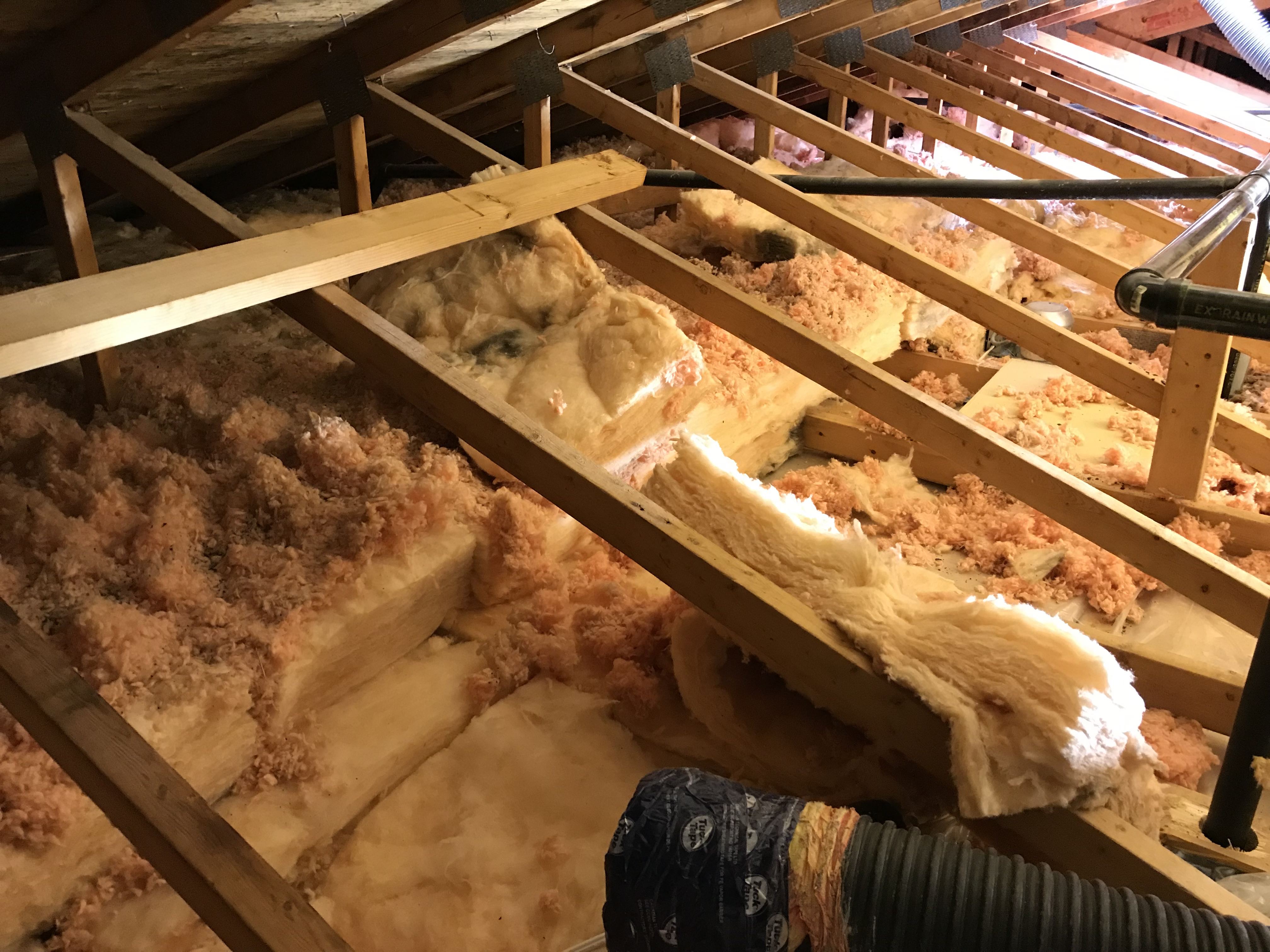 As a rule, a professional contractor should be removing blown-in insulation – this should not be a DIY project for anyone without experience. This work is messy, difficult, and often dangerous. It must be done right so that all remnants of old insulation are removed. Insulation removal needs high-capacity vacuum equipment and proper safety gear – the risk of contaminated materials or airborne particulates is too hazardous for the average homeowner. Better safe than sorry. Often there's a need for additional equipment like pressure washers and/or disinfecting detergents.
When Should I Get My Insulation Removed In Toronto
Have you ever noticed it's getting colder in your home in the winter, and you're constantly turning your thermostat up? This may be a sign that you need insulation removed.
Or maybe your home is too hot in the summer? If insulation has shifted or settled over time, it may be letting in more heat than necessary. Our computers can track how much heat is coming into different parts of your home, at different times of day, and help you pinpoint where additional insulation would be of most benefit.
Having old or worn out insulation can be a real energy waster. When your insulation is not functioning properly, it can cause problems with your energy bills, cause poor air quality and even cause structural issues. Contact Four Seasons about their professional attic insulation removal services for Toronto residents.
The DIY approach VS the professional approach
With home insulation, a professional contractor will deliver the best results. In particular, the removal of old insulation should be managed professionally. A DIY approach, by an inexperienced homeowner, can only pose dangers. Yes – homeowners can save money with many DIY projects, but removing insulation has too much potential for disaster. It's best to do it right from day one of the project. Nothing beats a professional approach – with special equipment, a powerful vacuum system, and safe disposal. Professional insulation removal in Toronto also ensures a clean space for re-installation.
Four Seasons Insulation Removal Process
If you're planning on adding more insulation to your home as part of a renovation or having more insulation added in order to have a more energy-efficient home, you want to know when your current insulation should be removed. Unfortunately, this decision can't really be made until after the installers have started their work, but there are a couple of clues that may help you.
Signs you need insulation removal in Toronto
It has become moldy or mildewed
It has become wet
It is not installed correctly and needs to be redone in order to be effective
Why should I get home insulation removed?
You can feel a difference in your home's comfort levels by simply having it removed
You can see the difference in your utility bills by simply having it removed
It is an energy suck, literally - not only does it potentially contribute to moisture related issues, but it also takes energy to warm up and cool down your home
It can cause health issues - allergies, asthma, allergies, etc.
FAQs On Insulation Removal in Toronto
At Four Seasons Home Insulation, we know that insulation can be one of the most important factors in home efficiency. That's why we want to make sure you know all the facts, so that you can make the right decision for your home.
How much does it cost to remove old insulation?
The cost of removing old attic insulation in Toronto and the GTA, will depend on the scope of work and extent of repairs. At Four Seasons Insulation, we can assess the space, recommend options for removal, and suggest options for upgrading with new insulation materials. As mold experts, we also deal with material that has been contaminated, providing safe and effective removal.
When is the best time to replace your insulation?
If you have any concerns about the quality of your home's insulation, you should have it inspected by a local HVAC professional or insulation contractor like Four Seasons Insulation.
Why is insulation important?
Insulation plays a large role in reducing heat loss and sound transmission in your home. Spray foam insulation is a high-quality material that's capable of preventing both kinds of heat transfer.
Can you install new insulation over old insulation?
In principal, it's possible to install new insulation over old insulation. However, this is NOT recommended when the existing insulation is wet or has been wet. With an insulation expert on hand, all problems and issues can be addressed, sourced, and repaired. With deteriorating or contaminated insulation, the source of the problem must be identified and a remedy must be expedited. Insulation professionals will also recommend proper air sealing before installing any new insulation – air leakage will compromise insulation performance and energy efficiency.
What if you find asbestos in insulation?
In older residential homes, it's not uncommon to find asbestos-laden insulation. This should be considered hazardous, and especially if asbestos fibres have been disturbed. Asbestos will pose a health risk ONLY when fibres are airborne. If asbestos-laden insulation is suspected, a qualified removal specialist must be contracted for removal. Any effort to remove asbestos material with a DIY approach is unacceptable – the health risks are too high and the ensuing problems are not worthwhile. Vermiculite-based insulation may also contain asbestos – it's best to avoid exposure.
What if I want to install different types of insulation at the same time?
If you're removing cellulose or fiberglass to install Spray Foam Insulation over the top, there shouldn't be any problems. Otherwise, if you're installing one of our other products over the top of your old insulation, it's important to check with an insulation contractor or a home advisor first.
How long does insulation typically last?
Depending on the type of insulation, this varies quite a bit. The main factor is how old the house is, followed by the geographical location. Other factors include the type of insulation and its installation.
In general, however, here's a rough idea of how long home insulation lasts:
Blown-in fiberglass: 15 years
Blown-in cellulose: 20 years
Spray Foam Insulation: 50-60 years

In fact, some spray foam installations from as far back as the 70s are still in excellent condition today. In extreme cases where there are failures with insulation, most of the time it's due to not following proper installation procedures.
Find out more by calling Four Seasons Insulation at 416-727-4181 or contacting us via our website.
Learn more about: