Toronto Attic Insulation Experts
When it comes down to reducing the heat loss in the home, attic insulation becomes the key element. Around 28% of heat is lost through the roof and contributes to a huge amount of energy loss during winters. Hence it is very important to reduce the heat loss to conserve energy and save money.
We have a team of home insulation xperts at Four Season Insulation that will first inspect the attic and loft space to determine which method of insulation is suitable for space. Sometimes there might be an issue of condensation or dampness in the attic, our team can easily discover if there are such problems at the same time the initial inspection is performed so they can be addressed side by side
Our clients in Toronto are given a wide variety of options when it comes to the type of material that is used, different materials are more suitable than others in different situations, and at Four Seasons Insulation we will help you choose a material that will best fit your attic's needs and yours so that you can get the most value and efficiency from it.
Our team at Four Seasons Insulation, will conduct an inspection of the Attic and will carry out a cost-benefit analysis of each of the options available and will recommend you the best options for attic insulation in Toronto. we understand that the cost is always going to be a determining factor in with solution you are able to choose we recommend the best option that will have long-term effects for cutting down and videos in the heat loss along with saving you money for over a long period of time.
What is R-Value and How Does it Help in Insulation?
R-Value is a standardized measurement that defines the performance of an insulation product. Industry professionals also refer to Nominal R-Value (estimated performance level) and Effective R-Value (actual performance level). Homeowners installing attic insulation in Toronto should be aware of the difference when choosing specific products.
Typically, insulation manufacturers will advertise a specific R-Value for their product. This would be the "estimated" performance level, depending on the installation space and other factors. With a professional on hand, "actual" R-Values can be projected, based on air sealing and ventilation, both of which contribute greatly to insulation performance.
R-Value essentially measures "resistance to heat flow". While it seems that more insulation will provide more R-Value, this is not always the case – it all depends on the product choice and the installation. Here again, a professional contractor can determine exactly how much insulation is required to achieve a realistic R-Value in a specific space.
The effectiveness of a product's "resistance to heat flow" depends on several factors – the type of product chosen – the location of the installation – the amount of air sealing provided – even the type of heating/cooling system in the home. More than that, R-Values will differ when topping up existing insulation compared to installing new insulation.
How Long Does Insulation Last in the Attic?
For homeowners installing attic insulation in Toronto, there's a pertinent question about product lifespan. The fact is, many things can compromise attic insulation – from excessive moisture, to a leaky roof, to pest infestation. Indeed, ageing insulation can also naturally degrade and decline.
While today's new insulation products boast long lifespans, it's still important to ensure the best possible conditions when installing a new product. For example, homeowners opting for complete insulation removal in Toronto can start fresh with quality insulation, air sealing, and ventilation.
To be sure, product lifespan may be less relevant than product performance. After all, if existing insulation is not performing at peak, age may not be the determining factor when upgrading is required. The important thing is to work with a professional who can ensure optimum results.
What Type of Insulation is Best for The Attic?
All things considered, every insulation professional has a favourite "product-of-choice". For a homeowner, budget is often a determining factor in choosing options for product and installation. The best approach is to have an insulation professional recommend the product and retrofits that best suit the needs. The bottom line, it's key to deliver the best return-on-investment.
In the attic, blown-in cellulose has proven to be an excellent insulation option, and with long-term benefits. Because of its composition, blown-in cellulose is an eco-friendly product, a feature that's important for many. In terms of R-Value and thermal performance, blown-in cellulose is similar to other products (resists mold, improves air quality, and provides fire resistance).
Some homeowners installing attic insulation in Toronto prefer blown-in fibreglass for the attic. It's a satisfactory product with many benefits. But regardless of product choice, it's important to work with a professional. This will ensure a complete insulation "system" – with a quality product, proper air sealing, and effective ventilation – the best approach to comfort and savings.
Removing Attic Insulation
Removing attic insulation satisfies two objectives at the same time: getting rid of material that is underperforming AND upgrading the energy efficiency of the attic and roof. While the reason for removing insulation may vary from home to home, the benefits are universal. You may have had roof damage – there may be too much condensation – or there may be some residual asbestos – whatever the reason professional removal ensures a clean and safe process with great results.
Water Damage
If you have water damage in the attic, your insulation is probably affected. Waterlogged materials definitely need removal, if only to prevent mold growth. Homeowners who need to replace attic insulation in Toronto would be wise to have the work done professionally right from the start.
Rodent Intrusion
It's not uncommon for rodents to build a "home" inside your attic insulation. If the insulation gets contaminated, removal is necessary (and therefore re-installation). If a situation like this remains unattended, there could be health risks to home occupants. The removal should be professional.
Mold Infiltration
High levels of moisture in the attic can be a breeding ground for mold. In more serious situations, this will require professional remediation and installation of new insulation material. If mold is discovered in the attic, it can't be left unattended (because of health risks) and must be removed.
Asbestos Deposits
If asbestos deposits are suspected in the attic, there could be potential for health risks. In general, if asbestos is left untouched, there is no reason for concern. However, homeowners considering the removal of attic insulation in Toronto should seek professional remediation with asbestos.
How Does Attic Insulation Affect your AC?
Attic insulation not only connects attic insulation with warmth the moment temperature drops, but also ensures the house remains cool during the hot days of summer. Attic insulation affects your AC in several ways and attic insulation services in Toronto by Four Seasons Insulation recommends you to insulate your attic if you haven't already.
Reduces the Speed of Heat Transfer: One of the main reasons why we recommend to avail attic insulation services in Toronto is to ensure the speed at which the heat gets transferred around spaces is reduced. Attics in homes in Toronto can quickly get heated when exposed to the sun all day, which eventually transfers into the house due to lack of insulation to stop it. Therefore, even if the AC is running, you feel the warmth in the house. Attic insulation allows the cool conditioned air to remain cool for a longer period.
Insulation Prevents Moisture Exchange: Moisture is one of the major problems in Toronto homes. When humidity travels downwards into the home it raises the humidity and mositure levels and can cause air conditioning coils to not function effectively. TAttic insulation installation is therefore necessary to blocks the air flow that carries humidity into the house. This will make the air conditioning experience more comfortable.
Allows More Cooling Much Faster: Attic insulation increases the cooling proficiency of the entire air conditioning unit. The AC tends to cool much larger space in very less time if the attic is insulated, since the cool air is not able to escape.
Increases the Life of the AC Unit: Efficient attic insulation also increases the life of any air conditioner unit, since homes without proper attic insulation usually lose their cooling constantly. This forces people to keep their air conditioners on which in turn can wear down the compressor over the time, in addition to the added monetary expenses and electricity bills.Thus, attic insulation also prevents your air conditioning unit from getting degraded faster than usual.
Upgrading Attic Insulation
Whatever the size of your home, there are measurable benefits when upgrading attic insulation. For homeowners upgrading their attic insulation in Toronto, there are a number of products to choose from – with blown-in cellulose being one of the more popular options.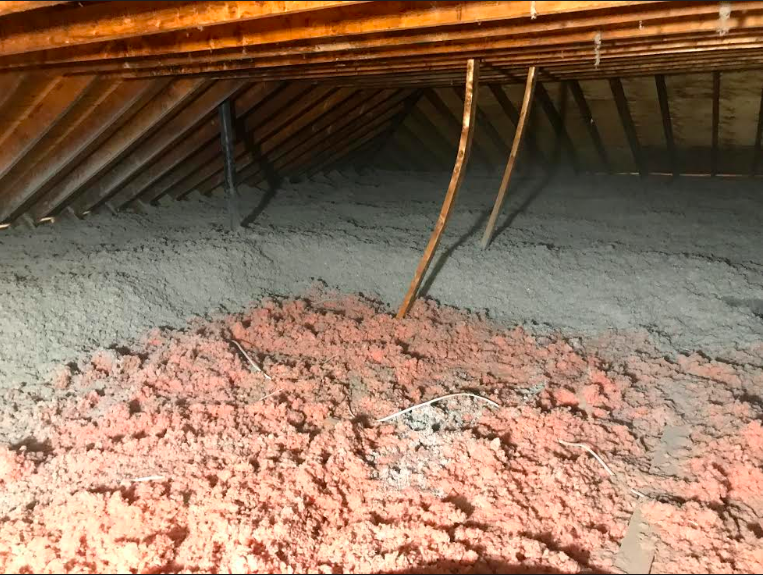 In the attic and roof cavity, blown-in cellulose provides a number of benefits at reasonable cost. With a professional installation, the product offers satisfactory R-Values and long-term thermal protection. The results are instantly noticeable during the winter and summer.
Blown in cellulose is specially treated to be fire resistant and mold resistant – an essential feature for a space like the attic. It's fabricated from plant cellulose and processed recycled paper, which satisfies some of the eco-friendly requirements for many homeowners today.
For the professionals at Four Seasons Insulation, blown-in cellulose has become a "go to" product for the attic. Once installed, the energy savings on heating and cooling are significant, so much so that the annual savings can often offset the investment.
Homeowners removing old attic insulation in Toronto will find a very cost-effective option with blown-in cellulose. Importantly, professional installation is necessary – with a comprehensive approach that incorporates air sealing and air ventilation.
Typically, Four Seasons Insulation recommends blown in cellulose for attic insulation in Toronto. We do install other products on request, although dollar-for-dollar the cellulose product delivers exceptional benefits season after season, year after year. No matter what option you choose, we ensure you that it will decrease the amount of heat escaping from the house and will also stop the heat from entering during summers eventually saving your money during the year.
Call Four season insulation at 416 727-4181 to know more about our attic insulation in Toronto and to get a free estimate.