ATTIC INSULATION INSTALLATION
Attics may be out of sight, but they should never be out of mind. It is one of the most neglected areas of the home, and is responsible for 28% of your home's heat loss, in other words energy consumption.
Many attics are improperly insulated or deteriorating after years of neglect. The problem is that poorly performing insulation causes heating and cooling to be wasted – and that can cost a lot of money. Expertly installed attic insulation is a good place to start.
How do I know if I require more attic insulation?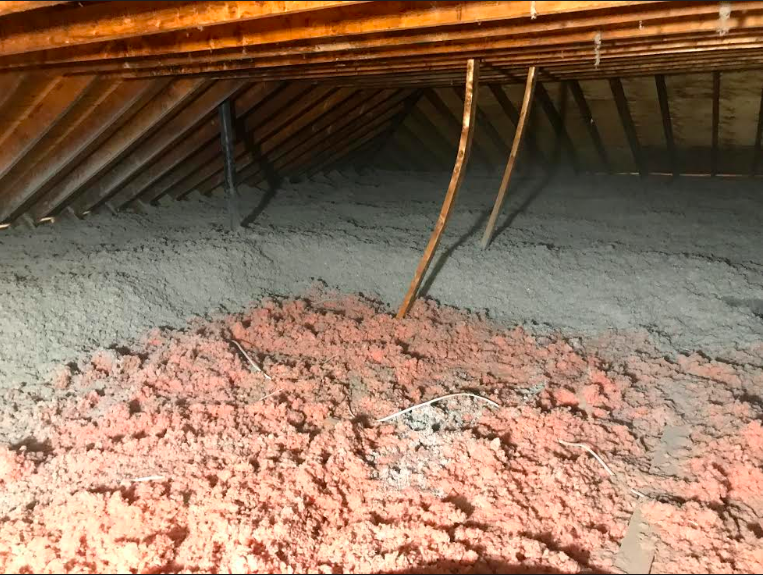 Attic insulation does not last forever – the installed material will eventually degrade and thermal performance will be compromised. What's most important is to notice the tell-tale signs of poor performance and take necessary action. At some point, you may well need new attic insulation.
In the winter, if the floors on the upper level of your home are cooler than on your main level
In the summer, if the floors upstairs are much hotter than downstairs
If you have below 14″ of attic insulation, you are a great candidate for our service. (Most houses have on average between 6 and 10 inches)
If your HVAC system feels like it's operating overtime, and your heating and cooling bills are higher than usual
Whatever the situation, Four Seasons Insulation will find a viable remedy. Our specialty is with cellulose insulation products, although we do install fibreglass insulation on special request.
Why choose blown-in cellulose insulation for your attic?
Blown-in cellulose insulation has proven to be an excellent product for spaces like the attic and roof cavity. The product is made from cellulose materials that are found in plants and trees, but in recent years has included processed recycled paper as an integral component of the mix.
Blown-in cellulose is considered eco-friendly and will satisfy homeowners who make this a priority. As for thermal performance, blown-in cellulose compares well with other insulation products. Finally, cellulose insulation dampens noise, resists mold, improves air quality and is fire retardant.
At Four Seasons Insulation, our product-of-choice is blown-in cellulose. We have delivered excellent results for countless customers over the years. On special request, we can also install fibreglass insulation. Whether you're removing old insulation or doing a home renovation, our blown-in cellulose products can provide many benefits. When installed professionally, cellulose insulation will noticeably improve seasonal comfort while improving air quality throughout the home. Above all – a well-sealed, well-insulated home will lower energy bills year after year.
What about the other insulation types?
When choosing the right attic insulation in Toronto, Mississauga, Vaughan, Oakville, and the GTA, there are many things to consider. It's important to understand the type of insulation you need for different areas of your home. Different locations require different levels of insulation depending on factors like surface area, access points to the roof, and orientation. Our knowledgeable attic insulation contractors at Four Seasons Insulation can provide you with information about what you need for your specific building and situation.
Attic Insulation Toronto Quick Facts
Energy efficiency is one of the smartest and most environmentally conscious moves you can make when it comes to improving the comfort of your home. We're proud to be recognized among the best attic insulation contractors in Toronto and we'd love to share our knowledge of insulation with you!
An insulated attic can save you anywhere from 10-50% on your heating bills
It has been proven that a well-insulated attic is one of the most cost-effective, and inexpensive ways to upgrade your home
Air sealing your insulated attic is just as important as the insulation itself.
There are various insulation materials you can use to insulate your attic and home
How much does attic insulation cost with Four Seasons?
The cost of installing attic insulation depends on a number of factors: the scope of work; the extent of repairs; and the size of the installation space. At Four Seasons Insulation, our expert installers will assess your space, recommend installation options, and provide an accurate quote.
Benefits of Professional Attic Insulation Installation
Stop wasting money on your energy bills and improve your home's comfort with our help!
Many homeowners feel that attic insulation for Toronto, Mississauga, Vaughan, Oakville and the GTA homes is unimportant. This is definitely not the case! The attic is often the largest, and hottest, part of your home. That's why it's so important to use the right attic insulation. Some of the benefits of professional installation include:
Increased comfort with reduced heat loss
Proper air sealing resulting in improved air quality by reducing airborne allergens, dust mites, and mold spores
Reduced noise pollution
Improved safety against fire, electrical faults, and structural damage
What Should I Insulate My Attic With?
Attics are one of the most important areas of a house to insulate. In fact, the average attic is about 50% uninsulated. While fiberglass insulation has traditionally been the standard in attics, some homeowners have switched to cellulose insulation, loose-fill insulation, and spray foam insulation.
Overall, spray foam insulation is one of the best options for homeowners who want to make their attic as energy-efficient as possible.
If you want to use spray foam insulation in your home's attic, it's important that you hire a reputable attic insulation contractor to assess the situation before you start spraying. Contact Four Seasons today about our attic insulation services in Toronto!
Types Of Insulation Used For Attic Insulation in Toronto, Mississauga, Vaughan, Oakville, and the GTA
It's important to remember that attic insulation can significantly impact home comfort and energy efficiency. When exploring options for your home, you will likely hear terms like R-value (the higher, the better), RSI (R-value per inch), and many other likely unfamiliar terms. The best way to approach attic insulation is to think about overall home energy efficiency.
The various types of attic insulation are:
Blown-in Cellulose Insulation
Blown-in cellulose insulation is made from shredded paper that's been expanded using a blowing agent and compressed into bales that are then shipped to the job site. Once it's in the attic, it's blown in using special equipment and leveled using rakes. Cellulose is an effective attic insulation because it's easy to install without special equipment and can be placed in hard-to-reach areas that other types of insulation may not reach. It's also less expensive than other options but requires regular maintenance.
Used properly, blown-in cellulose will provide your attic with an R-value between R-3 and R-6.
Spray Foam Insulation
Spray foam insulation is excellent for retrofitting an existing attic that has a poor or no, vapor barrier. This type of insulation, which expands to fill any nook and cranny of your attic, has a high R-value that's comparable to fiberglass batts. It also helps prevent air infiltration, cuts down on dust mites and allergens, and reduces energy loss in the attic.
Spray foam insulation is a type of polyurethane foam that expands to 100 times its liquid volume to seal and insulate. Unlike some other types of insulation, it does not have to be placed into the airspace or cavities between your ceiling joists or rafters. What's more, because it expands to fill all the available space, you don't have to pay as much to get your attic as energy-efficient as it can be.
Spray Foam Insulation has an average R-value of 6, which means it can really help reduce the amount of heat that escapes through your roof.
Fiberglass Insulation
Fiberglass attic insulation is one of the most popular varieties. It's made from small strands of glass fibers that are blown into your attic using a large blower. Fiberglass insulation can be blown in or installed in batts (official term) and is low-maintenance, making it a popular choice for homeowners seeking quality insulation at an affordable price.
Fiberglass Batt Insulation
Fiberglass batt insulation is the most common. It consists of rolls of cut fiberglass material. Our attic insulation contractors install the insulation in your attic by placing them in a layer on the floor, over the joists, and then a layer on the ceiling.
It has an R-Value of 3.8, which is the lowest of all the types of insulation mentioned in this article. Fiberglass rolls consist of fibers that are 0.2mm wide and provide a lot of surface area that helps with heat loss, thus providing better insulation.
Fiberglass Rolls: Costs: $1/sq. ft., $3,600/1000 sq. ft, $3600/2000 sq. ft., $4800/3000 sq. ft., $6000/4000 sq. ft. for labor (depending on the size and location of your attic).
This product is ideal for older homes with rotting roof trusses and houses with gable roofs, valleys, and roof dormers.
Fiberglass Loose Fill Insulation
Loose-fill fibreglass attic insulation is made with molten glass engineered into fibres. It is commonly found in the attics of newly constructed homes. This type of insulation is well-suited to attic insulation top ups.
Fibreglass insulation is a popular choice for attic insulation in Toronto and the Greater Toronto Area because it's odourless, mold-resistant, non-combustible, and asbestos-free.
This product is cost-effective and can be installed in a matter of hours. This is the most popular type of insulation used by homeowners.
The R-value of fiberglass insulation is typically 2 ½ to 3 ½ per inch
You should always wear a respirator when handling loose-fill fibreglass insulation or leave upgrades and retrofits to professional insulation companies with the right personal protective gear and equipment.
As home and attic insulation specialists, serving the Greater Toronto Area including Toronto, Mississauga, Brampton Oakville, and Vaughan, we can also provide safe and effective insulation removal, as well as mold removal (where insulation has been water damaged). Find out more about Four Seasons Insulation by calling 416-727-4181 and speaking with one of our in-house experts.
Learn more about: