ATTIC INSULATION INSTALLATION
Attics may be out of sight, but they should never be out of mind. It is one of the most neglected areas of the home, and is responsible for 28% of your home's heat loss, in other words energy consumption.
Many attics are improperly insulated or deteriorating after years of neglect. The problem is that poorly performing insulation causes heating and cooling to be wasted – and that can cost a lot of money. Expertly installed attic insulation is a good place to start.
How do I know if I require more attic insulation?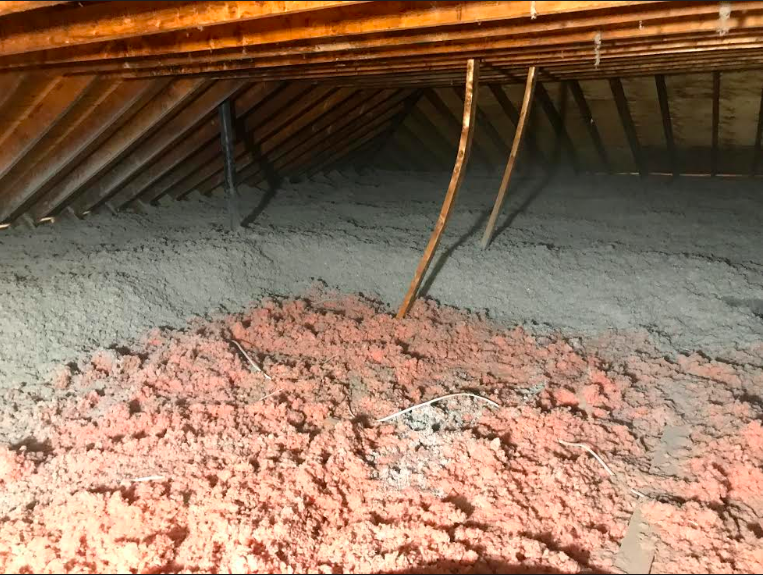 Attic insulation does not last forever – the installed material will eventually degrade and thermal performance will be compromised. What's most important is to notice the tell-tale signs of poor performance and take necessary action. At some point, you may well need new attic insulation.
In the winter, if the floors on the upper level of your home are cooler than on your main level
In the summer, if the floors upstairs are much hotter than downstairs
If you have below 14″ of attic insulation, you are a great candidate for our service. (Most houses have on average between 6 and 10 inches)
If your HVAC system feels like it's operating overtime, and your heating and cooling bills are higher than usual
Whatever the situation, Four Seasons Insulation will find a viable remedy. Our specialty is with cellulose insulation products, although we do install fibreglass insulation on special request.
Why choose cellulose insulation for your attic?
Blown-in cellulose insulation has proven to be an excellent product for spaces like the attic and roof cavity. The product is made from cellulose materials that are found in plants and trees, but in recent years has included processed recycled paper as an integral component of the mix.
Blown-in cellulose is considered eco-friendly and will satisfy homeowners who make this a priority. As for thermal performance, blown-in cellulose compares well with other insulation products. Finally, cellulose insulation dampens noise, resists mold, improves air quality and is fire retardant.
What about the other insulation types?
At Four Seasons Insulation, our product-of-choice is blown-in cellulose. We have delivered excellent results for countless customers over the years. On special request, we can also install fibreglass insulation. Whether you're removing old insulation or doing a home renovation, our blown-in cellulose products can provide many benefits. When installed professionally, cellulose insulation will noticeably improve seasonal comfort, while improving air quality throughout the home. Above all – a well sealed, well insulated home will lower energy bills year after year.
How much does attic insulation cost with Four Seasons?
The cost of installing attic insulation depends on a number of factors: the scope of work; the extent of repairs; and the size of the installation space. At Four Seasons Insulation, our expert installers will assess your space, recommend installation options, and provide an accurate quote.
As home and attic insulation specialists, serving the Greater Toronto Area including Toronto, Mississauga, Brampton Oakville, and Vaughan, we can also provide safe and effective insulation removal, as well as mold removal (where insulation has been water damaged). Find out more about Four Seasons Insulation by calling 416-727-4181 and speaking with one of our in-house experts. You can also visit our company website.
Learn more about: