MOLD INSPECTION, REMOVAL & REMEDIATION
Because mold thrives in a high moisture environment, it can grow and proliferate in any home, new or old. In fact, once established, mold can spread quite quickly.
Worse still, mold spores are easily carried through the air. When mold is suspected, professional mold removal is the answer. At Four Seasons Insulation, we offer free mold inspections in Toronto, Mississauga, Oakville, Vaughan and surrounding areas.
Common Reasons For Mold Inspection & Mold Removal/Remediation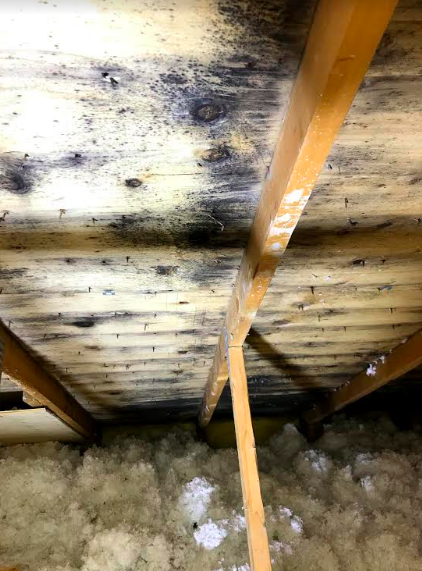 One of the most common places for mold growth in your home is in the attic space.
Mold in the attic generally tends to happen when one or more of these factors are present:
Poor ventilation in attic space
Bathroom and kitchen exhaust fans not properly vented outside, but into the attic space
Soffit vents blocked with Insulation
Soffit vents not installed correctly
Lack of rafter vents in attic space
If you've discovered mold, removal is a must. It has to be done professionally, and it has to be done safely and effectively. If you have reason to suspect mold, it's best to have a comprehensive inspection, followed by professional mold testing from a company like Four Seasons Insulation.
Risks of Mold Damage to Your Home
Without removal, mold can pose the following damage risks to your home:
The plywood supporting your roof will deteriorate and impacts your roof's life spend
Mold can quickly spread from your attic into your home, which may cause the need for major renovations
The water and moisture that accompany mold put your electrical systems in the attic at risk (especially in older homes)
What You Should Know About The Health Risks of Mold
It is important to have mold removal and remediation done as soon as you note the existence of any mold to reduce the health risks. The health risks differ depending on the mold present.
Headaches
Persistent cough or cold symptoms
Hypersensitivity pneumonitis
Burning or irritation of the nose, eyes, throat and/or lungs
Opportunistic infections in immune-compromised individuals
Asthma attacks
Difficulties in Breathing
Allergic reactions
Mold Inspection, Mold Testing, and Mold Removal with Four Seasons
Whether it's a residential space or a commercial space, Four Seasons provides a systematic approach to mold remediation. From inspection to testing, to removal, our highly trained team of specialists ensures complete safety for occupants, while providing professional mold removal.
Once we inspect and test for mold, we isolate the contaminated area and begin the mold removal process. We use industrial-grade filtration equipment and pressurization methods that contain any dangerous mold. The key is to ensure the complete removal, as well as a clean, disinfected space.
Regardless of project size, Four Seasons follows industry standards and established protocols for mold remediation. We don't take shortcuts and make every effort to safely dispose of contaminated materials. Before any restoration work takes place, we make certain that the space is mould-free.
When it comes to mold testing, Four Seasons provides an objective, third party analysis, and an air quality assessment that is completely impartial. This is critical for homeowners and business owners, so that proposed remediation work will address the specific mold issues of the space.
Do Mold Spores Spread and How Do You Kill Them?
Mold naturally reproduces by releasing spores into the air. As spores move through the air, they create new mold outbreaks where the right conditions allow. Spores do not die – and when they are not removed effectively, they can easily propagate and recolonize (in damp conditions).
Without question, mold removal and disinfection requires expertise – this is not a good time for a DIY project. After removal, its important to eliminate the moisture source that allowed the mold to develop in the first place. Anything short of getting to the source will allow mold to grow again.
How Much Does Mold Removal Cost?
The cost of mold removal will depend on the extent of mold damage and the scope of repairs required. At Four Seasons Insulation, we inspect the contaminated space, we recommend an approach for remediation, and we provide the homeowner with an accurate price quote.
As professionals, we don't recommend a DIY approach with the removal of mold – it can be dangerous, it can pose health issues, and it can create more problems down the line. We will provide safe and effective removal and a clean start for the restoration of the damaged space.
Four Seasons Insulation serve Toronto, Mississauga, Oakville, Vaughan and their surrounding areas. Find out more by calling Four Seasons Insulation directly at 416-727-4181 or visit our company website.
Learn more about: