How To Properly Remove Mold
Posted in Mold Inspection & Removal, on January 29, 2021
Mold is a natural occurrence – so it's not that uncommon to find an infestation somewhere in the home. Indeed, most everyone has found a small outbreak in the kitchen, bathroom, or laundry room. As it is, the more severe mold outbreaks are typically found in the roof and attic.
For mold to thrive, it needs moisture, which makes the attic an ideal environment. The fact is, whether a home is new or old, mold can spread quite quickly in a space like an attic. Of course, the problem is that the attic is "hidden," so detecting a mold outbreak can be hard.
Homeowners requiring mold removal in Mississauga (or mold removal in Toronto) would be wise to go with a professional. A mold infestation should not be considered a DIY project. Proper mold removal and remediation is best left to a professional with experience and expertise.
Mold Removal in Mississauga Is Best Left to the Professionals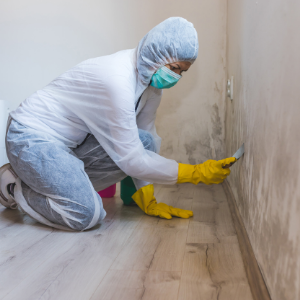 Yes – small outbreaks of mold can likely be handled with some household cleaning products – but for anything more substantial, the DIY options at the local hardware store just won't do. In short, a professional will achieve the most effective mold removal results in the long-term.
Homeowners who need mold removal in Mississauga (or mold removal in Toronto) are best off starting with a professional inspection. This will accurately determine the source and extent of the mold outbreak. It's also the best way to identify the type of mold and any potential health risks.
A professional mold remediator has the experience and expertise to remove mold properly. Of course, the most important thing is to eliminate the source of the mold and prevent the potential for future growth. Also important is to remedy the original cause and reason for the outbreak.
Some Common Types of Mold Found Throughout the Home
While most types (species) of mold are not considered hazardous, some situations can pose a health risk. The truth is, there are many thousands of mold species. The key during an inspection is to specifically identify a mold species.
A professional mold technician identifies mold type based on the colour, growth pattern, and other identifiable characteristics. Needless to say, the most important step is to identify if the mold is dangerous or presents health hazards.
allergenic mold: this type of mold can trigger allergic reactions in people

pathogenic mold: this mold can propagate problems for those who are sick

toxigenic mold: this mold produces dangerous toxic substances
Some Types of Mold Could Pose Health-Related Dangers
In most cases, household molds aren't toxic and therefore pose no health-related dangers. But there are species that are "toxigenic" – they produce toxins and some of them are dangerous to humans (particularly those whose health is compromised).
When mold is identified as dangerous, professional remediation is necessary. For mold removal in Mississauga or mold removal in Toronto, local homeowners should ensure the complete and thorough elimination of all traces of mold and mold spores.
The problem with an established mold outbreak is the chance of "reproductive" spores spreading through the air. These can also cause health problems because allergies are triggered. Worse still, mold spores can create new colonies and outbreaks.
Choosing Professional Remediation When Dealing with a Mold Outbreak
With a significant mold outbreak, it's not wise to go with a DIY approach. Doing-it-yourself might save money in the short run, but this is serious work best left to a professional. Mold remediation is about isolating the infiltration, eliminating the mold source, and making necessary restorations.
The important thing with mold remediation is to effectively eliminate high-moisture sources that have allowed the mold to thrive. This may entail some necessary repairs and even installing better ventilation. Air ventilation will allow for improved moisture control to prevent mold growth.
Mold professionals do the work right from start to finish – from effective waste disposal to proper cleaning and disinfecting, to repairs and retrofits. All of this work is clearly beyond the ability of a typical property owner. Only the most basic mold infiltration should be considered a DIY project.
Mold Removal in Mississauga And Mold Removal in Toronto
For mold removal in Mississauga or mold removal in Toronto, Four Seasons Insulation offers customers a comprehensive approach to remediation. Our mold specialists will inspect the space, sample test the mold for species type, and safely eliminate every last remnant of an infiltration.
At Four Seasons, our team of highly skilled mold technicians always ensures the highest degree of safety for residents and occupants. We seal off the contaminated area; we effectively remove mold deposits, and we make sure that the space is clean and sanitary. We don't take shortcuts
The Four Seasons team uses a pressurization method to contain a mold outbreak, along with an industrial-grade filtration system to keep the air clean. Our people also adhere to the strictest professional protocols for mold remediation and always ensure the safe disposal of wastes.
For mold testing and air quality assessments, Four Seasons relies on third-party laboratory analysis. This ensures that all results are impartial and objective. It also allows residential and commercial property owners to consider our remediation recommendations in their best interest.
Four Seasons Insulation Serves Customers Throughout the GTA
For homeowners who may need mold removal in Mississauga (or mold removal in Toronto), Four Seasons Insulation can provide the most professional results. We don't suggest a DIY approach to mold removal because it can pose dangers – we prefer to do it right the first time.
While the cost of mold removal depends on the extent of the mold infiltration, our technicians provide a price quote that reflects the work scope. We always recommend the best approach for remediation and the most cost-effective repairs and retrofits based on the need.
Residential and commercial property owners can find out more by contacting Four Seasons Insulation directly at 416-727-4181 or visiting our website at www.4seasonsinsulation.ca .