3 Areas to Insulate in Your Home
Posted in Attic Insulation, on September 13, 2022
From attic insulation in Toronto to insulation for your doors and walls, the right insulation is critical in any home - new or old. The insulation material you choose, whether it's spray foam insulation or blown-in cellulose, how much insulation is installed, and the condition of your home and attic insulation directly impact the energy efficiency of your home and utility costs. When you upgrade your attic insulation in Toronto, you can boost your home value, minimize the strain put on your heating and cooling systems, and improve your indoor comfort, making daily life at home more enjoyable.
What Affects the Efficacy of Insulation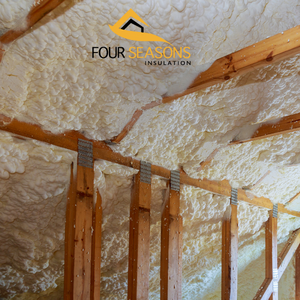 The performance of home and attic insulation in Toronto is measured by R-Value. The better the R-value, the more an insulation material is equipped to prevent heat transfer, which means it will better control indoor temperatures. The amount of insulation used will also impact its effectiveness. There are cases where too much attic insulation is installed or too little. Talk to your insulation provider to ensure your attic insulation works at its peak for as many years as possible. At Four Seasons Insulation, we offer blown-in cellulose attic insulation and spray foam insulation. Our expertise will ensure that your home is adequately insulated for peak performance.
Here are the areas in your home you should ensure are appropriately insulated.
Attic Insulation in Toronto
The attic is the most essential room in your home when it comes to insulation. As hot air rises through the house, it moves up into the attic. Good quality attic insulation, such as spray foam insulation, prevents heat from escaping through the roof cavity. When attic insulation in Toronto is not well-protected, in good condition, or nearing the end of its lifespan, it becomes susceptible to mold, pests, and water damage.
Wall Insulation
Insulation in the walls of your home minimizes heat loss through the walls and windows of your home, especially around doors and windows where there is more chance of drafts and cracks. Well-insulated walls protect pipes that envelope the home from freezing during cold days, especially during harsh winters in Toronto.
Crawl Space Insulation
Located below the foundation of your home, crawl spaces are susceptible to cold temperatures and moisture from the ground below. Like with attic insulation, spray foam insulation from Four Seasons Insulation for the crawl space creates a strong moisture barrier that prevents basement leaks and maintains warmth for the health of your pipes and heating ducts.
Insulation from Four Seasons Insulation
For all your attic insulation needs in Toronto and the surrounding areas, Four Seasons Insulation is here with high-quality insulation materials.