Why Choose Spray Foam Insulation in Mississauga?
Posted in Spray Foam Insulation, on September 08, 2022
There are so many choices when it comes to attic insulation in Mississauga; it can feel overwhelming. With so many materials, each with its own benefits and drawbacks, it can be challenging to know the right one for your home. However, as technology has evolved, spray foam insulation has become one of the top choices on the market, and with good reason. Four Seasons Insulation has become an expert in spray foam insulation – from choosing the best product to ensuring the most effective installation.
Read on to learn why spray foam insulation is the top choice for property owners in Mississauga and across the Greater Toronto Area.
R-Value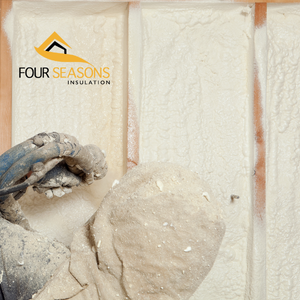 The average homeowner might not know what R-value is as it's a term used to measure the resistance your insulation has to heat flow. Essentially, the higher the R-value, the better your insulation is at climate control and energy efficiency for your home. Spray foam insulations have some of the highest R-value of any insulation on the market. If your primary concern is maintaining the climate in your home, spray foam insulation is a top choice for homeowners seeking new attic insulation in Mississauga.
Resist Heat Transfer
A significant benefit to spray foam is its resistance to heat transfer. This means that it creates a barrier between your home and the weather outside, stopping heat that rises to the attic from escaping. Attic insulation in Mississauga makes a huge difference in keeping your home comfortable by retaining heat during the winter and facilitating cooling during the summer.
Mold-Resistant Insulation
Spray foam insulation materials are a great defense against attic mold. Some, outdated or aged attic insulation materials act like magnets to mold spores. Outbreaks are exacerbated by excess moisture and heat in the attic. Spray foam insulation is less conducive to mold by minimizing heat transfer and reducing vapours as well as moisture. When you choose spray foam insulation at Four Seasons Insulation, you can better protect your home's indoor air quality.
Seal Cracks & Leaks
One of the most unique aspects of spray foam insulation is its ability to seal cracks. When it comes to traditional insulation, fitting it into gaps or oddly shaped spaces consists of cutting it until it fits into place. Spray foam insulation, however, efficiently seals openings of any size without wasting more time or material.
Enable Energy-Efficiency
If your main concern when looking at attic insulation in Mississauga is energy efficiency, spray foam insulation is your best option. Home energy professionals consider spray foam insulation the most energy-efficient insulator on the market. By replacing your insulation less often and avoiding wasted materials during installation, spray foam insulation involves less waste and energy consumption than traditional insulation. It also helps with energy consumption overall as you waste significantly less energy using heat transfer-resistant insulation.
Long-Lasting
Spray foam insulation is estimated to last up to 80 years compared to other types of insulation that last an average of 20 years. By installing spray foam insulation, you can cut on repeat costs of replacing your home's insulation and have one less thing to worry about as a homeowner.
Attic Insulation Upgrade Mississauga
To get the most from your spray foam insulation, working with a team of professionals is essential. A professional attic insulation company will be able to minimize the risk in installation and maximize the value you'll get from the product for years to come.
The experts at Four Seasons Insulation are one of the most trusted teams for spray foam insulation in the GTA, making them the go-to team for your attic insulation in Mississauga.