How Spray Foam Insulation Can Increase Property Value
Posted in Spray Foam Insulation, on September 23, 2022
When your heating and cooling at home noticeably change to the point where it costs more money to maintain your optimal indoor temperature, you will likely need to look to your attic insulation. When insulation around the home becomes aged, it's recommended to upgrade to highly effective spray foam insulation. But when homeowners consider selling in the near future, this investment may not seem worth it.
Here is why upgrading your attic insulation to spray foam can increase the value of your home and make it more attractive to prospective buyers.
Energy-Efficiency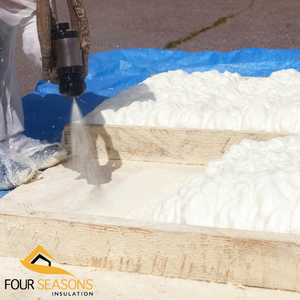 You reap the benefits when you invest in spray foam insulation for your attic or elsewhere in your home. At the same time, you continue to occupy that space, saving money on your monthly heating and cooling bills and preserving the condition of your HVAC equipment. Beyond your own month-to-month benefits, these effects of good insulation material are attractive to buyers too. Spray foam insulation minimizes energy output, allowing the new owners to move into a home where they, too, will spend less on their monthly utility bills without any hassle. They will also have better-preserved air conditioning units and furnaces. Because spray foam attic insulation is said to last 80 to 100 years, the new owners can be assured that they will never have to think about home insulation for the attic again.
Mold-Free Home
Most prospective buyers will first conduct a home inspection to look for hidden issues around the home, like mold. The attic is one of the most common spaces in the house where mold is encountered. Older, more outdated attic insulation materials contribute to the growth of mold, but spray foam insulation actually prevents infestation. By installing your new insulation in the attic prior to selling your home, you can improve home inspection results and give buyers to come in at asking or above with their offer. If there's mold in your attic, contact Four Seasons Insulation. Our expert team provides strategic mold inspection and removal services to protect your attic and home.
Prevent Attic Water Damage
Another factor to consider during a home inspection is water damage. More often than not, the attic is a haven for leaks from seasonal rainstorms, wind damage, ice accumulation, and snow. You can prevent future leaks when you work with Four Seasons Insulation to upgrade to spray foam insulation in your attic. This is because spray foam insulation creates a durable seal that effectively prevents water intrusion and air leaks. So, when it is time to put your property on the market, prospective buyers will be pleased to find that your attic insulation and the entire space is free of water damage.
Upgrade with Four Seasons Insulation
If you're ready to upgrade your attic insulation in the Greater Toronto Area, now is the time. The cost-effective investment will save you monthly and make your property more attractive to potential buyers if you decide to sell.