3 Reasons Why You Should Install Attic Insulation in Autumn
Posted in Attic Insulation, on September 29, 2022
With autumn comes crisp air, falling leaves, and colder weather. Although some people dread when summer ends and others are filled with joy, we all have one thing in common - the desire to be warm and comfortable inside our homes. Attic insulation in Toronto allows families to be prepared for the cold months before the winter chill hits the air,. But, without sufficient insulation, you'll have a much colder season than you anticipated. High-quality spray foam insulation in Toronto is a great way to ensure your home is a safe haven from the cold this winter. The highly-regarded insulation material permits energy efficiency and evenly distributed heat throughout your home so you can be cozy on the coldest days.
Here's why you should install attic insulation before autumn.
Prepare for Cold Weather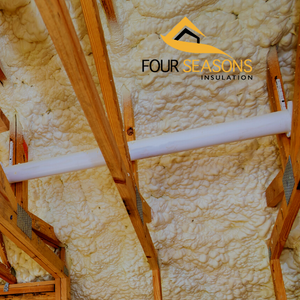 Scheduling your attic insulation upgrade immediately after the temperatures get cold is like getting air conditioning in the middle of July when bills start to skyrocket. It's always better to prepare for the cold months ahead. When you upgrade your attic insulation in Toronto during the fall to spray foam insulation, you can reap the benefits all winter long from lower heating costs to optimal indoor comfort. At Four Seasons Insulation, our team is trained and certified in installing insulation in all areas of the home.
Protect Your Health
With colder weather comes more time spent inside with the windows up, allowing viruses and contaminants to be trapped inside with you and your family. Many homeowners underestimate the importance of indoor air quality,To keep from getting sick, it's essential to take care of our bodies by being aware of our indoor environment, as it can easily affect our immune system. Spray foam insulation in Toronto not only keeps you warm but protects your home's indoor air quality from outdoor pollutants, prevents moisture accumulation, promotes healthy air distribution, and ensures your insulation is asbestos-free. To keep yourself and those around you safe, reach out to Four Seasons Insulation for high-quality attic insulation in Toronto and reliable installation services.
Prevent Seasonal Infestations
High-quality, air-tight sealing spray foam insulation can prevent seasonal infestations from entering your attic. Pests are attracted to gaps in insulation, moisture, mold growth, and traces of other pests in your insulation. By upgrading to spray foam insulation before fall, you can effectively seal holes in your insulation, discouraging pests from seeking the warmth of your home.
Choose Quality Over Speed
Instead of rushing around for an insulation company at the last minute, reach out to the professionals at Four Seasons Insulation for professional installations you can trust. By fixing the problem before it occurs, you take preventative measures to ensure your safety and comfort throughout the colder months.
To be prepared for the winter, it's best to install spray foam insulation installed this Fall.