Spray Foam Insulation Contractors
Spray foam insulation does it all: boosting energy efficiency, reducing energy consumption & waste
When installed professionally, heating and cooling bills are substantially reduced, with dollar savings that sustain season after season, year after year.
Spray foam insulation is truly a unique product – with benefits that surpass most other insulation products. The application itself requires expertise and installers must be trained and experienced with the product. A single application delivers benefits that make for a worthwhile investment. At Four Seasons Insulation, we offer free home inspections in Toronto, Mississauga, Oakville, Vaughan and surrounding areas.
The benefits of spray foam insulation are far reaching
Spray foam is a state-of-the-art polyurethane product (Spray Polyurethane Foam) that effectively adheres to practically any surface (substrate). It's considered by home energy professionals to be the most energy-efficient insulator on the market. The fact is, spray foam seals and insulates a space better than anything comparable – particularly all the traditional insulation products.
SPF effectively seals the smallest holes, cracks, and crevices, compared to traditional insulation which needs to be cut and fit into place
The application creates a "continuous" insulating envelope
When expertly installed, the insulation resists heat transfer
In the attic or basement, unwanted air filtration is reduced by attic insulation
With improved energy efficiency, energy bills are decreased
The principal aim of spray foam insulation is to provide a super-tight building envelope. This ensures an installation space that is simultaneously air-sealed and insulated. Expertly installed, the spray foam envelope becomes a multi-faceted "system" – a thermal barrier, a vapour barrier, and an air barrier all in one. The final result: an unparalleled level of home energy efficiency.
You can read more about the benefits of spray foam insulation here.
If going "green" is important to you – Walltite ECO™ is the product for you
At Four Seasons Insulation, Walltite ECO™ has become the "product of choice" for projects of all sizes. By any definition, this is a superior product, and surpasses the strict pre-requisites of the National Building Code of Canada. Walltite ECO™ has also been awarded EcoLogo™ Certification.
Highly regarded by industry professionals throughout North America, Walltite ECO™ is perfect if you're looking for insulation that is recognized for its eco-efficiency and product sustainability. When compared with other products, Walltite ECO™ has the least environmental encumbrance.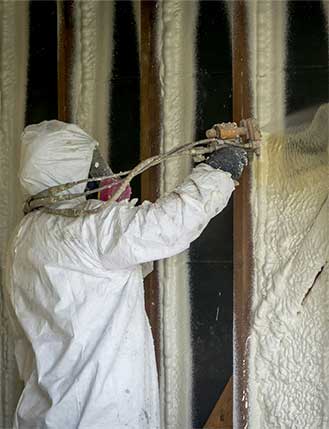 Featured on many HGTV programs such as Holmes on Homes, Leave it to Bryan, Disaster DIY, etc.
Reduces your home's energy consumption
Improves the strength of building structure
Conforms to any shape of the building
Moisture resistant
Acts as a vapour barrier
Does not expand or contract when temp. changes
Stops air leakage
Sound proofing
Prevents rodents from entering your home
Highest R-Value per inch
This polyurethane insulation can be applied almost anywhere in the home
Why choose a professional contractor for spray foam insulation?
For the best results, spray foam must be installed professionally. Under no circumstances should this become a weekend DIY project. Spray foam requires expertise with both the product and the installation. Anything less than a professional approach will not yield the best possible outcomes. Worst of all, a do-it-yourself approach may result in serious issues, including situations that may be dangerous. The best approach – do it right from day one with an experienced professional.
How much does spray foam insulation cost?
Without question, spray foam is considered a premium product and maybe a costly undertaking for some. However, the long-term benefits do make for a worthwhile investment and an excellent rate-of-return. Working with Four Seasons Insulation, your project will be assessed, and project recommendations will be made. Our team will provide a scope of work summary to address your home energy needs, and we'll provide a comprehensive quote for you to consider and approve.
At Four Seasons Insulation, we offer free home inspections in Toronto, Mississauga, Oakville, Vaughan and surrounding areas. To find out more about Four Seasons Insulation, visit our website, where you can request a price quote, or call us directly at 416-727-4181.
Learn more about: