Attic Insulation in Burlington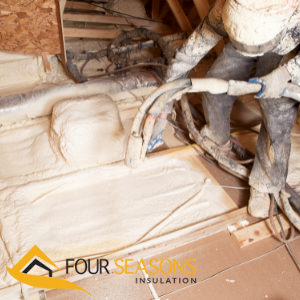 Four Seasons Insulation has years of experience in installing a wide variety of insulation products in both residential and commercial areas and environments. Our professional and licensed installers are committed to making healthy homes that are clean, dry, well-ventilated as well as insulated.
With unusual and unprecedented changes in our environment and with surging energy costs, it is crucial that we incorporate a culture of energy efficiency. With our adequate home insulation products, you can reduce the heating costs up to 30% and immediately balancing the cost of installation of the products
Professional Attic Insulation Services In Burlington
At Four Season insulation, we are dedicated to providing our customers with an extremely high level of customer service. Our experts will guarantee that you have the right attic insulation for your climate and specific home's needs.
The attic insulation products in Burlington of Four Season insulation range in R-60. Our professional experts will discuss R-values with you once they have inspected the requirements of your specific home
We recommend that the most suitable to address the attic insulation Burlington is when you suspect the signs of thermal performance being compromised. Our attic insulation in Burlington is eco-friendly and does not use harmful toxins and chemicals.
Four Seasons Insulation provides the services of attic insulation in Burlington which is extremely durable and can last for a longer period of time without being replaced. Our experts ensure that the attic insulation in Burlington does not have any indoor air pollutants or chemicals hence you can be confident that this is the perfect choice for you and your family.
To know more about our attic insulation services in Burlington or to get an estimate of our services provided, CallFour Seasons Insulation today at 416 727-4181.
Learn more about: