Mississauga Attic Insulation from Four Seasons Insulation
When it comes to energy efficiency, many homeowners in Mississauga prioritize upgrades and retrofits in the main living areas of their homes. Somehow the attic remains secondary, which leaves insulation companies to stress the importance of the attic.
For homeowners installing attic insulation in Mississauga, the benefits are practically immediate. When the attic is properly sealed and insulated, the improvements are noticeable – from better energy efficiency to improved indoor comfort.
Throughout the GTA, Four Seasons Insulation provides a wide range of attic insulation services. We are a local attic insulation company in Mississauga, installing high-quality products that are guaranteed to provide comfort during the winter and summer.
With attic insulation, recommended R-Values depend on the geographic region. But the bottom line is always the same – to prevent warm indoor air from escaping in winter AND stop cooled indoor air from escaping throughout the summer.
The Benefits of Attic Insulation
Attic insulation must perform at peak in order to provide benefits throughout the year. With peak performance, the HVAC system (heating and air conditioning) works in better balance, therefore consuming less energy when providing indoor comfort.
When the attic is well sealed, well insulated, and well ventilated, there is much less wear and tear on the HVAC system and much less energy being used to heat or cool the home. Quality products and quality installation is the key to peak performance.
Homeowners considering attic insulation in Mississauga would be wise to choose a professional approach. The fact is, there's more than simply "topping up" with new material. It means that the attic must be fully sealed AND insulated AND ventilated.
When an attic is comprehensively insulated, everything works together as a "system" to provide collective benefits for the entire home. The key is to do it right with the highest quality products.
• heat loss is prevented throughout the entire attic and roof cavity
• the HVAC system (heating and cooling) operates more efficiently
• moisture accumulation is prevented with suitable air ventilation
• air leakage (winter/summer) is blocked with effective air sealing
• the insulation "system" allows for much-improved air circulation
One of the big benefits when insulating the attic is a lower winter and summer utility bill. This is an important benefit because heating and cooling account for more than 50% of the energy used in an average residential home. As such, saving 15% on heating and cooling can be a big deal.
Homes that are well insulated and well ventilated will also prevent temperature fluctuations from one room to another. It means that upper floors and lowers floors are less prone to the uncomfortable temperature changes that many homes experience during summer and winter.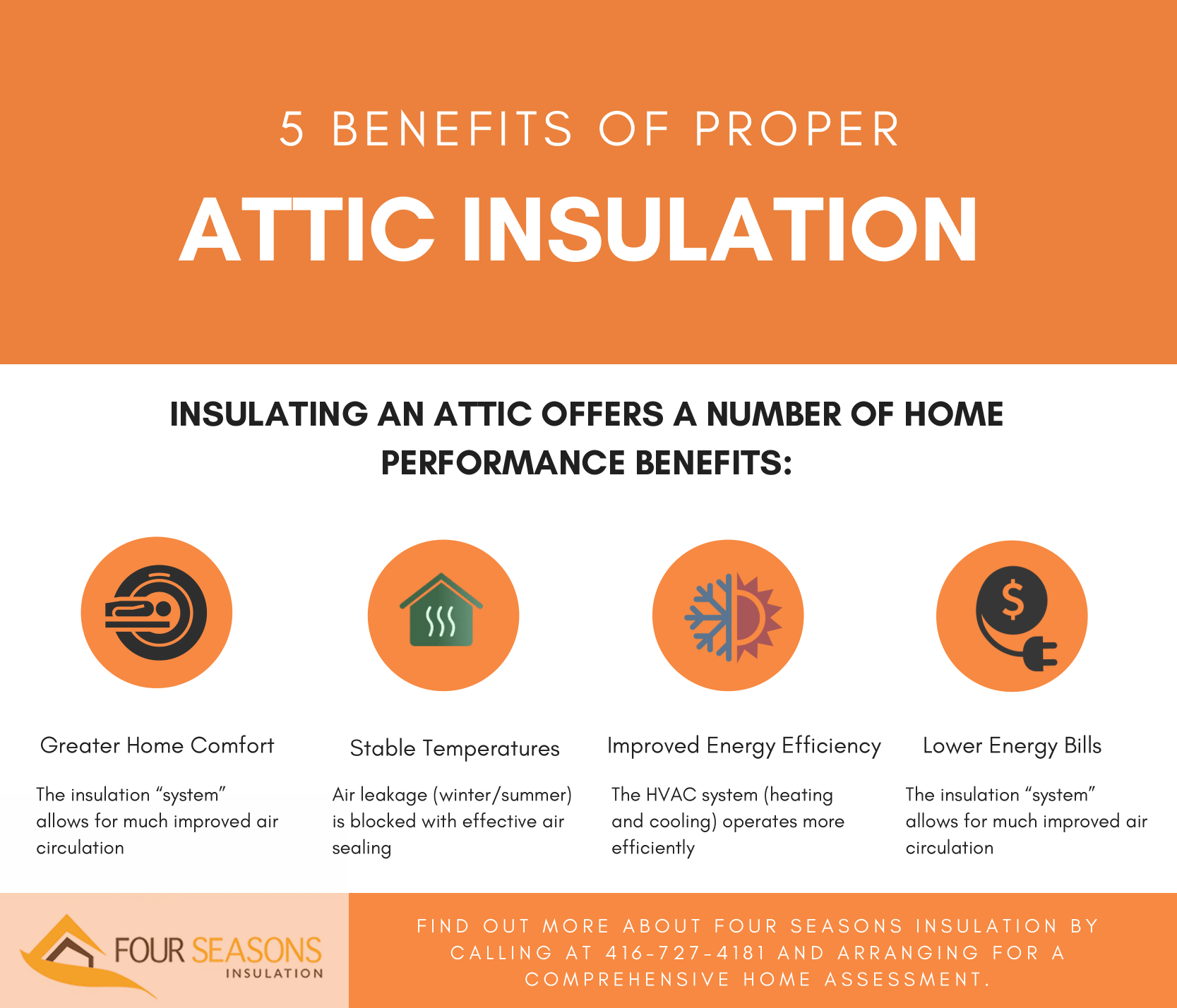 Recommended Attic Insulation
For the highest level of R-Value, spray foam insulation is the professional choice. It dramatically boosts energy efficiency; it significantly reduces energy consumption, and measurably reduces heating and air conditioning bills. The annual dollar savings on energy are substantial.
Spray foam is a unique product, with benefits that exceed performance levels of other products. For best results, the application requires installation expertise – installers must be experienced with the product. It's certainly a premium product, but an excellent long-term investment.
Spray foam insulation effectively adheres to almost every surface. For the attic and roof, insulation professionals consider spray foam to be the most energy-efficient of any comparable product. It seals and insulates better than any of the traditional insulation products now on the market.
In a space like an attic, spray foam is particularly effective. This is because it seals and insulates all of the awkward holes, openings, and crevices found throughout the attic cavity. Unlike other insulation products, spray foam does not require any additional filling of gaps and cracks.
• the finished application creates a comprehensive insulating "envelope"
• the installed insulation resists heat transfer and stops any air filtration
• the improved level of energy efficiency results in reduced energy costs
When installing spray foam insulation the objective is to create a super-tight "envelope". It means that the finished space is air-sealed and insulated simultaneously. For professionals, spray foam is a multi-faceted "system" – an all-in-one air barrier, thermal barrier, and vapour barrier.
At Four Seasons Insulation, the "product of choice" for the attic is Walltite ECO™. It's a superior spray foam product that exceeds many of the requisites of the National Building Code of Canada. Based on manufacturing, Walltite ECO™ has been accredited with EcoLogo™ Certification.
Walltite ECO™ is highly regarded by professionals throughout North America. It's also the perfect insulation option for homeowners who are focused on environmental sustainability. As such, the Walltite ECO™ product has less negative environmental impact than anything comparable.
Is Attic Insulation Really Worth It?
Attic Insulation in Mississauga is presumably one of the most viable home upgrades you can make. Considering the fact that every ounce of insulation you do pay's off by diminishing the amount of heat that has a getaway through your attic, hence bringing down your heating bills in winters, as well as your cooling costs during the summers.
Homeowners in Mississauga and the GTA are understanding the advantages that accompany attic insulation, whether it's comfort, healthy indoor environment, or the savings on utility bills. In fact, even the most intricate attic insulation will generally take a few days to complete. Moreover, you will get the advantage of a professional inspecting your home and attic for proper insulation and long-term effectiveness. This will build your home's resale value when the time comes, as the buyers are willing to shell out an extra amount for a home with a properly insulated attic that gives you more than adequate return on the investments.
Therefore, for the above-mentioned reasons and more, attic insulation is one of those home improvements that is a win inside and out. You can call us at 416-727-4181 or request an online quote for a comprehensive home assessment.
Hire An Insulation Professional
With an attic insulation project for your home or office in Mississauga, it pays to hire a professional. With an experienced professional, you can be sure that quality products are being installed, and workmanship is at a high standard. More than that, you can be sure that the attic will be properly sealed, insulated, and ventilated.
A professional insulation contractor starts with an assessment of your attic and roof cavity along with an in-depth scope-of-work proposal. This would include necessary repairs and retrofits, as well as a recommendation for an insulation product that suits the need and deliver performance.
Choose Four Seasons Insulation
Homeowners ready to install attic insulation in Mississauga would do well to choose the expert team at Four Seasons Insulation. We are a highly qualified attic insulation company, installing only the highest quality products and providing workmanship that is completely guaranteed.
There's no question that spray foam insulation might be a costly endeavour for some. However, the excellent long-term benefits make for an excellent investment over the long term. With Four Seasons Insulation in Mississauga, you can be sure of a comprehensive quote prior to any work being done.
Because every home is uniquely different, we recommend upgrades and retrofits that best meet your needs. Today, during COVID 19, our people are taking additional precautionary measures to protect our customers. We are continuing to offer the best possible contact-free service.
Find out more about Four Seasons Insulation by phoning 416-727-4181 and arranging for a comprehensive home assessment.