Mold Removal In Mississauga
Because mold is naturally occurring, it's not uncommon to find an outbreak in a residential home. It's certainly not uncommon to find small outbreaks in the bathroom, kitchen, or laundry room. But major mold outbreaks are most often discovered in the roof and attic cavity.
Simply put, mold thrives best in a high moisture environment. Making the roof and attic a perfect space for growth. Whether the home is new or old, a mold infiltration can spread quickly throughout a space – and because the attic is unseen, detection can be quite difficult.
Homeowners who require mold removal in Mississauga would be well advised to hire a professional. Mold shouldn't be considered a DIY project – the health risks and dangers aren't worthwhile. Removal and remediation should be left to professionals who have the expertise.
In a worst-case situation, a mold infiltration will create mold spores that float through the air, creating new mold colonies. Homeowners who suspect mold, or find a living infiltration, should seek an expert team of professionals to inspect, remove, and remediate the outbreak.
Mold Remediation in Mississauga Requires a Professional Approach
Homeowners requiring mold removal in Mississauga should start with a professional inspection to determine the source and scope of the mold infiltration. It's important to recognize the type of mold, the potential for health risks, and the course of action for removal and cleanup.
Professionals have the tools, experience, and expertise to effectively remediate mold. This allows for an assessment of potential damages and a realistic approach to entirely removing the mold infiltration. The important thing is to eliminate any possible potential for growth or spread.
Common Types of Mold Found in Homes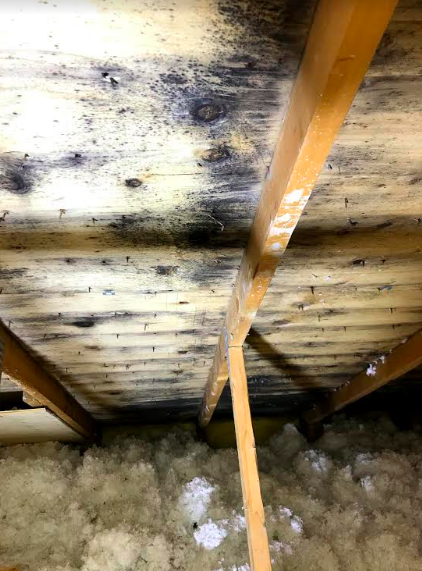 For many homeowners, household mold is a personal concern. It's mainly because of the potential health risks even though most species are not hazardous. The fact is, there are countless mold species around – thousands and thousands and thousands. The key is to identify a mold species accurately.
Professional mold technicians can identify the type of mold in your home based on colours, growth patterns, and other characteristics. Clearly, it's most important to recognize if a mold species is one of the dangerous varieties. Typically, an experienced technician will assess three categories of mold.
allergenic molds can activate allergic reactions in people, including asthma attacks
pathogenic molds can perpetuate health problems for people who are already sick
toxigenic molds are the ones that produce toxic substances known to be dangerous
Depending on their age and health condition, some people are more sensitive to mold than others. In some cases, people can develop sensitivity with prolonged exposure to mold. Whatever the case, it's never a good idea to diminish the ill effects of mold – it's simply critical to remove and remediate.
There Could be Some Danger with Mold
When a mold infiltration presents a danger, professional attention is a necessity. For mold remediation in Mississauga, local homeowners should be focused on a comprehensive approach that remediates the cause of the mold outbreak while eliminating any chance of future growth or spread.
For the most part, household molds are not toxic or poisonous. But some species are "toxigenic" which means they produce toxins – some of which may well be dangerous to humans. That's why it's so vital to determine the nature of a mold species, and even more vital to eliminate at the source.
A well-established mold infiltration can also release "reproductive" spores, which are primarily spread through the air. These too can cause health issues because they trigger allergies in certain people. Even worse, mold spores create new colonies by reproducing a whole new infiltration.
The thing with mold is that everyone is affected differently. For the very old or very young, symptoms may be more pronounced. For those with existing respiratory issues, the danger risk is heightened. For those with a weakened immune system, prolonged mold exposure is most dangerous.
What is Professional Mold Remediation?
With a mold infiltration, it's unwise to choose a do-it-yourself approach. While this might save some money in the short term, this work is better left to professionals. Mold remediation is about isolating an outbreak, eradicating the source of the outbreak, and making necessary restorative repairs.
The critical thing with remediation is to eliminate the high-moisture environment that allows mold to flourish. Beyond any required repairs, this may entail the installation of proper ventilation, especially in a space like an attic. Air ventilation allows for better moisture control to prevent mold growth.
Professionals do it right from the start – from cleaning and disinfection – to appropriate retrofits – to safe and effective disposal. All of this is beyond the capacity of a typical homeowner, not to mention the potential health risks. Only the smallest of mold outbreaks should be considered for DIY attention.
For Mold Remediation in Mississauga, Choose Four Seasons Insulation to Complete the Work
Four Seasons Insulation offers homeowners in Mississauga a fully comprehensive approach to mold remediation. We inspect the space, test the mold, and safely remove every bit of the infiltration. Our team of highly trained mold specialists ensures a high degree of safety for occupants.
Homeowners who require mold removal or attic insulation in Mississauga can rely on the professionals at Four Seasons Insulation for a complete job. We isolate the contaminated area; we expedite the mold removal, and we make the necessary retrofits. Our objective is to ensure a clean and disinfected space.
At Four Seasons Insulation, we use pressurization methods to contain the mold infiltration, and we employ industrial-grade filtration to keep the air clean and safe. We also maintain strict standards and protocols for professional mold remediation, along with safe disposal of contaminants.
When it comes to testing mold specimens, Four Seasons Insulation provides third-party lab analysis, and air quality assessments that are objective and impartial. This is important for both residential and commercial property owners who insist on the most comprehensive mold remediation.
Homeowners shopping around for professional mold remediation in Mississauga can contact Four Seasons Insulation at 416-727-4181 or contact us online.