MISSISSAUGA INSULATION REMOVAL FROM FOUR SEASONS INSULATION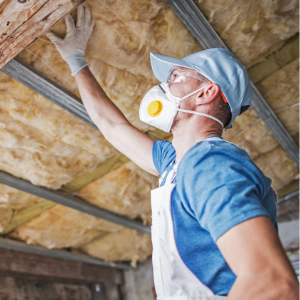 Undoubtedly, home insulation plays a crucial role in making your home a comfortable haven throughout the year. It keeps the scorching summer heat out while providing an effective barrier to keep the warm conditioned air inside during the harsh Canadian winters. Effective insulation can dramatically lower your utility bill, leading to considerable savings in the long run. So upgrade as an intelligent homeowner and remove your old insulation and install new energy-efficient insulation. When looking for attic insulation services in Mississauga, trust Four Seasons Insulation, the undisputed experts in home insulation services including insulation removal and upgrades. As a full-service company, we have been proudly serving Mississauga, Vaughan, Oakville and the Greater Toronto Area for more than a decade! Four Seasons Insulation comes with the promise of quality insulation products, excellent customer service, and top-tier workmanship.
These pandemic times necessitate stringent adherence to COVID protocols. Our home insulation services have been optimized to minimize contact. Your safety is our top priority—rest assured of end-to-end contactless service from Four Seasons Insulation!
Home Insulation Removal—The Low Down
When it comes to insulation removal in Mississauga, it is best to go for professional home insulation services. DIY insulation removal comes with inherent health risks and the hassle of safe disposal of old insulation. You might save a few dollars, but it might cost you much more in the long run! Hiring an experienced professional ensures quick, safe, and easy removal. The trained crew at Four Seasons will determine the extent of removal and advise you on the best options for re-insulation. They are equipped with specialized tools and robust vacuum systems to ensure safe removal and disposal.
What's more, they leave the place clean for re-insulation. Typically, it takes a home insulation service professional around 4-6 hours to remove insulation from a 1500 square foot attic (With a crew of 3 trained attic insulation removal technicians). A DIY attempt would take around 8-18 hours for the same. The technicians can also spot potential or existing energy efficiency issues and recommend upgrades or retrofits required.
Home Insulation Installation—When, What & Why
Temperature swings coupled with high energy bills indicate that your home does not have enough insulation. Installing energy-efficient insulation in your attic and basement is an effective way to plug the energy leaks and lower your energy bills. Topping up your insulation with loose-fill or spray foam insulation can increase the R-value up to R-50! Spray Foam insulation installation from Four Seasons reduces energy use and boosts energy efficiency—saving you thousands of dollars in reduced energy bills. As members of the Canadian Urethane Foam Contractors Association(CUFCA), we ensure safe products, high health standards and trusted expertise.
Attics and basements are responsible for up to 28% of heat loss from your home—all the more reason to install energy-efficient insulation from a reputed home insulation service like Four Seasons Insulation. Time taken for insulation depends on several factors— the size of the attic/basement, R-value or thickness of insulation, venting, and air-sealing requirements. A 1000 Sq ft attic would require 2-3 hours for complete installation. This includes preparation for insulation, including weather stripping, door insulation, and blowing in the insulation material.
The Last Word:
Removal of old insulation and re-installation by a professional home insulation service like Four Seasons Insulation is an easy home improvement. One that will bring year-long comfort and lower utility bills! We promise a flawless job for all your insulation removal, mold removal, air-sealing, and home insulation service needs! Dial 416-727-4181 for a free COVID complaint home inspection and price estimate today!