Don't DIY, Hire An Expert Insulation Company In Mississauga
Posted in Attic Insulation, on February 10, 2021
It's common knowledge for all homeowners across the GTA, including Toronto, Mississauga, and Brampton, that one of the most cost-effective ways to reduce utility costs is by installing attic insulation in your Mississauga or GTA home in time for winter. Previous condo owners are moving out of the city and moving to suburbs such as Mississauga, Ajax, and Oakville. As many new owners move in, they are looking to start DIY projects on their new homes. It's now becoming increasingly common for homeowners to install insulation into their attics and walls themselves. However, installing insulation isn't as simple as cutting it up and sticking it inside your walls. DIY installation can have long-term consequences to the longevity of your home and its energy efficiency. We've outlined several reasons below why you should ensure that a professional from Mississauga installs your insulation.
Ventilation: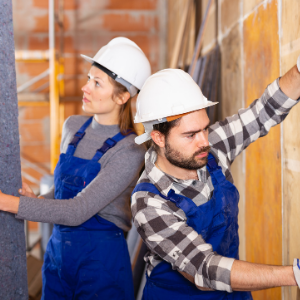 Adding insulation to your home will most definitely ensure your home can retain heat and stay warm but depending on where and how it's installed, it can damage your home's ventilation. Similar to a human body, houses breath and continuously exchange indoor air and outdoor air.
By adding insulation and blocking specific air paths to travel, you can stop the engineered airflow around your home and have stagnant air. Stale indoor air leads to condensation, irritation, and allergies. It's best to ensure that you have a licensed technician to inspect your home, install your insulation, and verify that your home can still breathe.
Types of Insulation:
Numerous types of ventilation can be installed in your home, and each type has its own R-values and pros/cons. For example, most Canadian housing has a combination of Batts insulation, loose-fill, foam-spray, and/or rigid insulation. It's difficult to give a clear answer as to which type of insulation is ideal for certain scenarios due to the myriad of options available to homeowners. Selecting the wrong type of insulation can lead to overspending, incorrect selection, and earlier replacement or lead to problems with your home such as closing up essential air cavities, mold build-up, or the risk of asbestos. The most cost and time-effective solution is always to have a professional choose and install your home's insulation.
Health Risks:
Insulation is predominantly installed behind walls, in your attic, and in general areas where homeowners don't have a lot of exposure to it. One of the main reasons for this is that insulation can have harmful effects on your health if mishandled during storage or installation. Insulation can accidentally be inhaled or have excessive skin contact, which can lead to irritation, coughing/wheezing, or even long-term health hazards. It is always prudent that proper PPE (personal protective equipment) is installed, and an insulation professional is guaranteed to bring his own to your home.
With the rise of home DIY projects, attic insulation installation is one that homeowners are looking towards due to its accessibility of material and because it seems easy to install. However, as mentioned above, insulation can be dangerous to your health and your home's longevity. It is always best to ensure that a trained professional takes a look at your home and installs the insulation themselves to ensure proper handling and installation. It may look like you're saving money by not having someone else do it, but you'll likely end up paying double once you have to replace the insulation due to several reasons that could have gone wrong during the process. A trained professional will take responsibility and guarantee you get your money and time's worth when adding insulation to your home.