Does Attic Insulation in Toronto Lose Its R-Value Over Time?
Posted in Attic Insulation, on August 06, 2021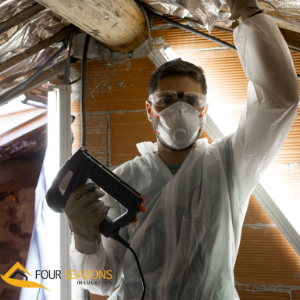 Insulation doesn't last forever — and when it is time for a replacement, many homeowners find that their degraded insulation has been the cause behind many common indoor issues. Old attic insulation in Toronto homes contributes to drafts and air leaks, as well as high utility bills. At Four Seasons Insulation, we often find health threats lurking in old insulation, such as mold spores, insects, and rodents. But how do you know if your home insulation in Toronto needs a refresh?
Fibreglass Insulation
Fibreglass insulation has been a top choice for many homeowners in the last few decades, in part because it has a long lifespan. Undamaged, fibreglass insulation can last up to 80 years before it needs replacement. However, the keyword here is 'undamaged,' and fibreglass is unfortunately susceptible to degradation: fibres can begin to flake off batts after only 15-20 years.
Cellulose Insulation
One of the best choices for home insulation in Toronto is cellulose insulation. It's eco-friendly, long-lasting, and is very effective at blocking air, giving it top marks in professional fire-testing. Usually, cellulose insulation lasts 30-40 years and, like fibreglass, can be affected by weather or pests. One bonus of cellulose is that it can be topped up to boost your R-Values.
Spray Foam Insulation
The newest insulation material on the market is spray foam insulation — which boasts an impressive lifespan: indefinite. Unaffected by water, pests, or mold, untouched spray foam insulation is inert and will last a lifetime. Offering superior air-sealing, R-Values, and moisture protection, spray foam is an excellent investment in your home.
When to Replace Old Insulation
There are a few signs and symptoms that your insulation is reaching the end of its lifespan. A few of the common complaints we hear at Four Seasons include:
Temperature shifts: If you have difficulty balancing your indoor temperature or suffer from sweltering summers and chilly winters, insulation is usually the primary cause.
Roof damage: Storms, high wind, and age can all affect your roof, which will have a direct effect on your insulation.
Water leaks: Water is the enemy of traditional insulation types like cellulose and fibreglass. Water degrades insulation and is the primary cause of mold growth.
Poor ventilation: The attic needs unblocked vents and soffits to work correctly, or humidity can build up.
Four Seasons Insulation Contractors
If you're wondering if it's time for new attic insulation in Toronto, your best course of action is to call professional insulation contractors like Four Seasons. We'll help you assess your current insulation and make recommendations for improvement based on its age and condition. As specialists in the insulation field, we base our suggestions on the age of your home, its unique characteristics, and what you and your family need (which includes your budget!). To learn more about how insulation ages or ask us any questions you may have, reach out through our contact page.