Addressing Moisture & Mould in Toronto & The GTA
Posted in Mold Inspection, on August 11, 2021
Mold inspection in Toronto and the GTA is not a seasonal service — whether it's the hot and humid summer months or the snowy and wet winter, your home is at risk for mold development all year round. Recognizing the symptoms of mold infestation and its various causes can help warn you of potential problem areas and avoid mold remediation in Toronto. Four Seasons Insulation has plenty of tips for spotting mold growth and minimizing moisture problems indoors — read on to learn more.
Symptoms Associated with Living in Moldy Homes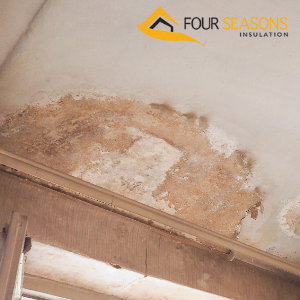 Mold often grows hidden under attic insulation, behind walls, or around window frames, which can make the signs and symptoms of a mold infestation the only indicator that there's a problem. But even that has its own set of issues since reactions to mold growth closely mimic seasonal allergies and the common cold and flu. If any of the symptoms below disappear when you leave home to go to work or away for vacation, it's a strong sign that there's more at play than a common virus.
itchy, red eyes
nasal congestion
respiratory issues like wheezing or coughing
itchy, inflamed skin
poor sleep
headache
What Causes Mold In New Homes
Many folks think that living in a brand new home protects them from needing mold remediation in Toronto — but that's unfortunately not the case. Mold can grow anywhere as long as it has moisture, organic material, and a steady temperature, all of which are in abundance in new and old homes. Preventing moisture is the most important thing you can do as a homeowner to avoid mold growth and damage.
Causes of Moisture Problems in the Home
Indoor moisture can arise from many different sources. At Four Seasons, we've seen mold develop from:
leaky pipes
condensation
vents that lead into the attic
floods
spills or drips
high humidity in poorly ventilated rooms
General Considerations to Minimize Moisture Problems
If you live in Toronto and the GTA, how can you prevent mold growth at home? There is a great range of things that even the least handy homeowner can do to prevent mold growth, including:
Increasing indoor ventilation
Swiftly drying up spills
Replacing old insulation
Regularly inspecting your roof and cutting away low-hanging branches
Because mold can grow in hidden places, Four Seasons suggests adding an annual professional mold inspection to your to-do list. Our technicians have the experience and tools to detect mold infestations no matter where they are, and early detection is critical in preventing expensive damage and out-of-control infestations. Mold inspection in Toronto and the GTA is a service that can help identify weak spots and future problem areas in your home — preventative care that pays off in the future. To learn more about how Four Seasons Insulation tests for mold or how moisture might be affecting your home, get in touch with us for a free quote.