Read This Before Getting Attic Insulation in Mississauga
Posted in Attic Insulation, on August 16, 2021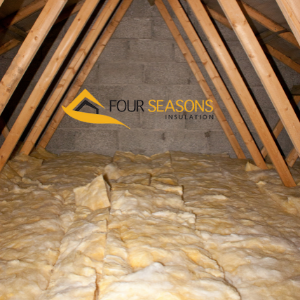 There's no way to sugarcoat the weather in Southern Ontario: winters are cold, and it gets expensive to heat your home. That's why Four Seasons Insulation recommends improving your attic insulation in Mississauga & the GTA today so that you're ready when the cold weather hits. Energy specialists predict that natural gas prices will rise again this winter, and while putting on a woolly sweater can help keep you cozy, it won't help your pocketbook when your energy bill comes due. Work with a top home insulation company to keep a lid on your heating bill this season.
Where to Start?
At Four Seasons Insulation, we're not immune to high heating and cooling bills — just a bit more knowledgeable about the cost, process, types of insulation and more. As homeowners ourselves, we have all the same concerns that you do — so let's look at the top four questions we get as a home insulation company.
1. Cost of Insulation
One of the top concerns when doing any home renovations is budget. While insulation may seem like a high upfront cost for a renovation that's relatively invisible, it has long-term economic benefits in the form of lower heating/cooling bills, fewer repairs to your HVAC system, and greater longevity for those appliances. In even a few short months, new attic insulation can save you hundreds of dollars.
2. Types of Insulation
Many different insulation materials are available today, but we have two clear favourites at Four Seasons: cellulose insulation and spray foam insulation. Both have fantastic benefits, are flexible for various parts of your home, and offer many decades of protection. You don't have to choose one or the other blindly — let us assess your home, and we'll help give you our expert opinion on what will benefit you the most.
3. Your Ideal R-Value
Insulation's efficacy is measured using R-Values — the higher the number, the better the insulation will protect your home against heat movement. This might make it seem like choosing an insulation with the highest R-Value is the only way to go, but that's not always the case. Cellulose insulation can get an R-Value boost by topping up, and some spaces may benefit from lower R-Value insulation, so always consult with a professional to determine what will suit your home's needs.
4. Lifespan of Insulation
How long will my insulation last? The lifespan of attic insulation in Mississauga & the GTA is affected by many factors, such as material, air movement, pests, mold, weather, and moisture. A thorough attic inspection and comprehensive air sealing and ventilation improvements can help ensure your new attic insulation will age gracefully and that you'll get the most out of your investment.
New attic insulation is one of the best ways to stay cozy in the depths of a Canadian winter — but it also helps just as much during the heat and humidity of a GTA July. To learn more about attic insulation's year-round effects, get in touch with us at Four Seasons Insulation.