4 Myths About Attic Insulation from The Experts in Mississauga
Posted in Attic Insulation, on August 26, 2021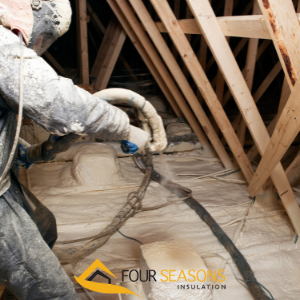 Having well-maintained and up-to-code attic insulation in Mississauga is part of a healthy and happy home. Insulation is a crucial part of your indoor comfort and plays an outsized role when it comes to your monthly heating and cooling bills (hint — the better your insulation, the lower your bill!). But persistent myths about attic insulation and the risks associated with DIY insulation removal remain — at Four Seasons Insulation, we hear (and see the results) all the time! Here are four common but untrue attic insulation myths.
1. Spray Foam Insulation is Toxic
The toxicity of the products we're bringing into our home is a widespread concern among homeowners today and is one that's shared by the Four Seasons team. The idea the spray foam insulation is harmful comes from its early days in the '70s. Fifty years ago, spray foam contained urea-formaldehyde, which could off-gas into the home. Today's spray foam has no urea-formaldehyde and is safe for residential use.
2. Insulation Helps Only in the Winter
Insulation has year-round effects that are just as powerful in the summer as during the winter months. Installing attic insulation in Mississauga is like wearing a hat — in the winter, it's a woolly toque that keeps the heat inside, while throughout the summer, it's a baseball cap that keeps the sun off. Regardless of the season, it helps keep your heating and cooling where it belongs, inside, reducing leakage that results in huge energy bills.
3. Attic Insulation Doesn't Make a Huge Difference
If asked to choose, most people would pick a kitchen renovation over insulation removal and replacement. The day to day experience of a new kitchen is, after all, straightforward to gauge! But the long-term benefits of new attic insulation are like a pair of well-fitting shoes — it offers near-invisible support and comfort while protecting your home from the weather. Poor insulation can cause cascading issues throughout a home, from roof damage to water leaks. The bonus of new insulation is that it will help save you money each month — so you can have that new kitchen too!
4. Vapor Barriers Trap Moisture, Causing Attic Mold
As insulation technology and our building practices have changed, new products have been insulated from coming in contact with moisture while letting it evaporate — reducing your risk of mold.
There's No Myth We Can't Bust!
At Four Seasons Insulation, we've heard all kinds of strange stories about what attic insulation can —and can't — do, but there hasn't been a question we're unable to answer. If you're unsure about what attic insulation can do for your home in Mississauga, get in touch! We're happy to teach you what we know about insulation so that you can make an informed decision about your next renovation. Reach out via our Contact Us page!