Where to Put Attic Insulation
Posted in Attic Insulation, on September 03, 2021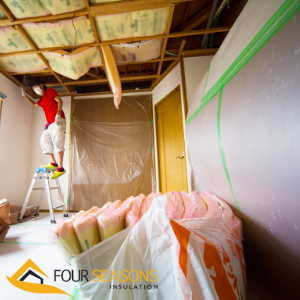 How much heating or cooling does your attic lose throughout the year? Some statistics report that it can be as high as 85%, which makes attic insulation in Toronto one of the most cost-effective and energy-efficient home renovations you can do. In Toronto, optimal home insulation creates a more comfortable, quiet, and stable living environment, with positive effects on more than just your heating and cooling bill. But where are the best places to put insulation? Join the Four Seasons Insulation technicians to learn more.
The Best Type of Attic Insulation
There is a wide variety of different insulation materials on the market today — gone are the days when you had to choose between option A or option B! But too many options can make it very difficult for the average homeowner to determine what is best for their home. This is where we can help!
Two of the most common insulation types are bat insulation and loose-fill. While both have their pros and cons, at Four Seasons, we prefer loose-fill insulation. Unlike bat insulation, which can be hard to fit around curves, pipes, or architectural details, loose-fill insulation fills space as it is, resulting in superior coverage, flexibility, and less labour.
The Importance of Attic Insulation
If you're going to install insulation in your home, there's one space that will give you the best returns, most significant effect AND save you money: the attic. While it may be the least used room in the house, the attic has an oversized impact on the rest of your home, affecting comfort, temperature, drafts, smells, and sound.
High heating and cooling costs are the clearest warning sign when attic insulation in Toronto is old, damaged, or insufficient. This is because the attic acts like a hat for your house: in the summer, it keeps the worst of the heat off, and in the winter, it works like a lid to keep warmth in. And every Canadian understands what it's like to be outside without a hat in February — brrr!
Ensure You Put Attic Insulation in…
When we're installing home insulation in Toronto, the Four Seasons team pays close attention to:
Floor: Seal any gaps or cracks between floors.
Attic access: This area is one of the most common for air leaks and needs a tight seal.
Joist space: Is this area clear of mold? Is it gathering condensation? We assess this before installing any new attic insulation.
Windows: Water leaks around windows are one of the common causes of attic insulation degradation.
Ceilings: Pipes, vents, and outlets need to be assessed before new insulation to ensure nothing is blocked.
New attic insulation isn't the kind of renovation you can see or touch — but it's one that you'll feel the effects of every single day. At Four Seasons Insulation, our team of insulation specialists can help you assess the needs of your attic and determine what material or installation will help you the most. To ask us about attic insulation in Toronto, reach out to the team!