Why It's Important to Remove Your Attic Insulation
Posted in Attic Insulation, on July 05, 2021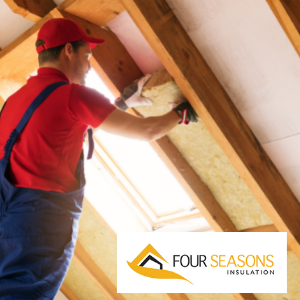 Attic insulation in Toronto is a pivotal part of your home's year-round energy efficiency. Many homes in Toronto and the GTA suffer from inadequate or damaged attic insulation, leading to higher home heating and cooling bills. Improving your home insulation in Toronto not only helps your pocketbook it also reduces your carbon footprint and overall energy use. At Four Seasons Insulation, we're committed to assisting homeowners in replacing and improving their attic insulation — which often starts with complete attic insulation removal.
The Importance of Attic Insulation Removal in Toronto
Attic insulation works hard all year round — in the heat of July, it keeps the sun from heating the air inside your home, and in the depths of winter, it prevents heat from escaping, keeping you toasty inside. Attic insulation also helps to protect your roofing, improve indoor air quality, and prevent issues like mold or pests.
But many of us never even see our attics, and this out-of-sight, out-of-mind effect can have a significant impact on safety and energy efficiency. Some of the reasons that attic insulation in Toronto needs removal are:
Age: Older types of insulation don't stand up to our changing climate and may contain harmful materials such as asbestos.
Water damage: Roof leaks, condensation, or humidity can all cause the insulation to degrade.
Infestation: Squirrels, raccoons, and insects may infest the attic and create nests in the insulation.
Mold: Moldy insulation is usually related to moisture problems.
Attic Insulation Removal Process
Creating a clean and sterile environment for your new attic insulation is an essential step. Due to the potential hazards of old insulation, it's best to have a professional attic insulation removal with Four Seasons Insulation — we ensure cleanliness and safety are forefront. Some of the ways we do this include:
Covering the attic entrance with thick plastic sheeting.
Removing any items from the attic before we begin.
Carefully preparing the area by covering openings and assessing pipes, vents, and soffits.
Securely removing insulation from your attic to ensure no cross-contamination.
Thorough vacuuming and air filtration when necessary.
Why Choose Four Seasons Insulation?
With DIY insulation materials available at many hardware stores, many homeowners think they can save a few bucks by removing and replacing their attic insulation — but here are a few reasons we think it's better to work with the professionals:
Your new insulation will be up to current building codes and recommendations.
The margin for error is slim to non-existent, while DIY installation is prone to errors and mistakes.
You don't have to worry about the mess — we promise to leave your home cleaner than we found it!
We bring professional-grade tools and equipment that ensure safety, efficacy, and cleanliness.
We will help you determine what material is going to be best suited for your needs and space.
We will help you choose the right R-Value.
When it comes to home insulation in Toronto, there are many different materials and brands, and the Four Seasons Insulation team will help you understand your options. Use our contact page to reach out and ask us any questions you may have about attic insulation in Toronto.