Get Fast Mold Removal Services in Mississauga
Posted in Mold Remediation, on July 09, 2021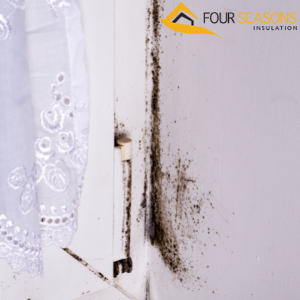 If you're looking for mold removal in Mississauga, you probably have concerns about the health and safety of your home — and you want the mold quickly and reliably removed. Four Seasons Insulation is a leader in mold inspection in Toronto and the GTA, performing mold removals for families, businesses, and buildings big and small. Getting mold removed promptly is key to stopping an infestation in its tracks — but how do you know if you need mold removal services?
Where to Check For Mold
The average homeowner is well equipped to do a simple visual inspection for mold growth around their home — in fact, working it into your regular maintenance activities can help alert you to a mold infestation as soon as it begins. Here are a few things you can keep an eye out for:
The Roof
If there's been a big storm or you had a snow-filled winter, it's always good to take a look at the roof of your home and make sure no shingles are missing or visible damage. Look for roofing materials in your lawn and garden, and trim low-hanging trees to prevent damage.
Flooring
Spongy, soft floors or unusual colouration may indicate mold problems. Does something feel different when you walk over a particular spot? One of the common places we find mold growth at Four Seasons is under basement carpets — the carpet traps moisture and provides an optimal surface for mold growth.
Bathrooms
Anywhere you can find pools or films of moisture are at risk for mold growth — both of which are extremely common in the bathroom. Bathing and washing creates lots of humidity, and high temperatures also play a role.
Signs of Mold in the Attic
Hands down, one of the most frequent areas for mold inspection in Toronto and the GTA is the attic. That's because it often has mold's ideal growing conditions. Homes with mold in the attic often have:
poor ventilation
hot or cold spots, drafts
ice damming
pest issues
vents that route into the attic cavity
temperature control issues
Hire Fast Mold Inspection & Removal Services
If you're concerned about mold growth, don't wait — this isn't a problem that will fix itself or get better on its own. Some species of mold only need 48 hours to begin growing, and they can grow fast, making prompt mold removal in Mississauga essential.
At Four Seasons Insulation, our technicians will use an arsenal of tools, knowledge, and testing devices during a mold inspection to find hidden sources of mold. Our mold testing is entirely non-invasive and can deliver science-based, impartial results.
Got mold? No problem! We can give you a fair and reliable quote for fast and safe mold removal so that you can get back to what matters most. If you need mold removal in Mississauga, trust the experts at Four Seasons — use our contact page to reach out to our friendly team and learn more about mold inspection in the GTA.