Why You Should Choose Spray Foam Attic Insulation
Posted in Spray Foam Insulation, on July 14, 2021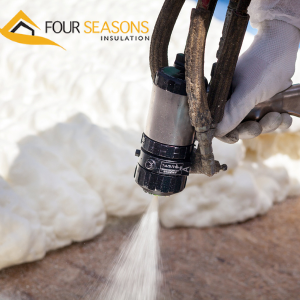 When replacing your attic insulation in Mississauga & the GTA, what material is best? With dozens of different options on the market, choosing attic insulation that's going to boost your energy efficiency while reducing your heating and cooling bills is straightforward (they all will) — but how long will your product last? Will it prevent air leakage? This is where the Four Seasons Insulation team can help — as a top home insulation company in the GTA, our experience in new homes, century homes, and everything in between guarantees you're going to receive a product that's going to check all of the boxes.
What Factors to Consider
Clients often ask us to install the best attic insulation — but what is best? Is it what suits your budget, or is it what provides the highest R-values? At Four Seasons Insulation, we help you determine what's best for your needs so that you can make an informed decision.
The primary types of insulation on the market today are made of:
cellulose
fibreglass
polyurethane foam (spray foam)
Each provides a different level of heat resistance, which is what we're talking about when we refer to R-values. Different insulation materials will work in various ways to help your home resist a heatwave in July, keep you cozy in February, lower your energy bills, raise your energy efficiency, and give great value for money. And to our mind, there's one material that's a cut above the rest: spray foam.
How Spray Foam Seals & Prevents Air Leakage in the Attic
Spray foam is a contemporary insulation material that's an all-in-one solution for attic insulation in Mississauga & the GTA. Beyond having some of the best performance records and R-values, spray foam insulation does more than insulate when installed professionally. One of the biggest problems homeowners face is air leaks and holes in the attic, especially in older homes. Air leaks cause heated (or cooled) air to leak and prevent insulation from creating a tight, energy-efficient seal. Spray foam fills these gaps, eliminating this problem.
Why Spray Foam Attic Insulation is the Best!
At Four Seasons, we're big fans of spray foam insulation because we've seen firsthand how it improves our client's homes, offering a superior attic upgrade or retrofit. Because it needs no time to settle, the impact of spray foam insulation is usually experienced immediately, with better soundproofing, fewer drafts, and a lower monthly energy bill. In the long run, spray foam insulation is one of the best investments you can make for your home and is highly sought after on Ontario's housing market — in part because it requires no maintenance and lasts 30+ years.
Working with a home insulation company like Four Seasons Insulation ensures that you'll get the best product for your home and that installation is clean and easy. To speak to a Four Seasons technician about spray foam insulation (we love answering questions!) reach out through our contact page.