Your Guide to Mold Removal & Prevention in Toronto
Posted in Mold Remediation, on July 23, 2021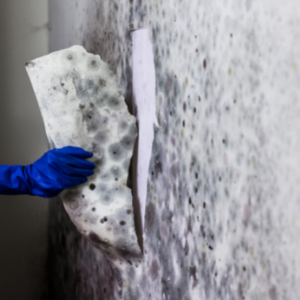 It's no surprise that most people feel fear when discovering they need mold removal in Toronto. Mold has scary health-related consequences and, if left undiscovered, can grow into massive infestations that cause hundreds (if not thousands) of dollars in damage. Mold inspection in Toronto and the GTA can help identify the health effects caused by mold growth indoors, some of which include skin irritation, dry eyes, wheezing, coughing, and nasal stuffiness. Four Seasons Insulation's 3 part guide to mold removal and prevention in Toronto will help!
Part One: Preventing Mold
Mold is an excellent example of an ounce of prevention being worth a pound of cure. Preventing mold growth in your home is as simple as adding the following three steps to your monthly maintenance tasks.
1. Locate problem areas
Mold can grow out of control when homeowners don't pay close attention to problem areas in their homes. What's a problem area? Anywhere there is water or moisture present, like bathrooms, kitchens, basements, crawlspaces, or attics. Moisture can arrive in the form of actual water (from a flood, leak, or spill) or humidity, which can get trapped or condense on surfaces or inside walls. Once you know what areas are at risk of mold growth, you can check them regularly or book a mold inspection in Toronto and the GTA for an in-depth investigation.
2. Fix water leaks immediately
If you've found water, fix it ASAP! A surprising amount of water can accumulate from a small leak in a short amount of time, wasting water and increasing your risk of mold growth. Deal with the problem right away and avoid a laundry list of concerns.
3. Dry up wet spots
Once the water leak is fixed, dry out the area right away. At Four Seasons, we like to recommend opening windows and running big fans to dry up moisture and move it along.
Levels of Mold Damage
If you've found mold in your home, you'll need professional mold removal in Toronto to safely and securely get rid of it. There are five levels of mold damage:
Level 1: 10 square feet of damage or less
Level 2: 10-30 square feet of damage
Level 3: 30-100 square feet of damage
Level 4: 100+ square feet of damage
Why Hire A Professional Mold Removal Company
Mold is a bio-hazard that grows on cellulose materials — the same materials our homes are built of, like wood, paper, and textiles. It spreads quickly, making professional mold removal the only safe way to eradicate indoor mold problems. The Four Seasons Insulation remediation team will carefully inspect, assess, and develop a mold removal plan that puts safety first and foremost. We use the latest in mold remediation tools and procedures and industry-quality air scrubbers and protective equipment to prevent cross-contamination and make sure we remove every last spore. If you've discovered mold growth at home, don't wait to get in touch — reach out to the Four Seasons Insulation team to learn the next steps.