Why Does Old Insulation Need To Be Removed Before Installing New Insulation?
Posted in Attic Insulation, on September 14, 2020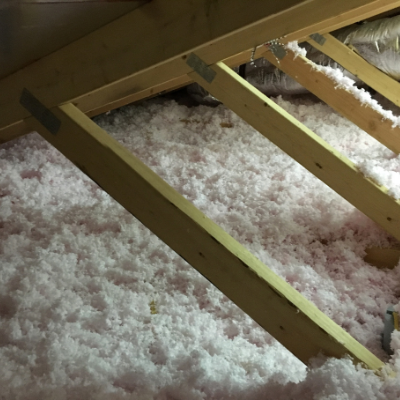 Some homeowners think that leaving old insulation on the attic floor is a good "base" for new insulation. This is only true if the existing insulation is clean, dry, and uncontaminated. In most cases, however, attic insulation deteriorates over the years, and for a variety of reasons. As such, professional attic insulation removal is recommended before new insulation is installed.
Homeowners planning to install new attic insulation in Toronto should understand the reasons for removing old insulation. To begin with, it's far better to start with a "clean slate". This allows for repairs that may be required, and retrofits such as air sealing and air ventilation. When installing attic insulation it's important to do it right – this is the best way to ensure long-term results.
Good Reasons to Consider Attic Insulation Removal
With attic insulation, it's important to start with a thorough inspection. In this way, a contractor can determine if the existing insulation must be removed, and how best to proceed. An inspection will also identify additional energy efficiency issues that may require attention.
Since every attic is different in size and layout, there will be different reasons for removing old insulation. The key is to do it properly so that the space is well prepared for re-installation. The reasons for insulation removal will vary, with repairs and retrofits often required.
Existing insulation materials may be contaminated by animals
The insulation has lost its R-Value (likely due to compression)
A renovation project might require that insulation be removed
Insulation may have been damaged by fire, smoke, or water
Air vents are covered by insulation due to a poor installation
One of the more concerning scenarios in an attic is asbestos-laden insulation. This is considered hazardous material and would typically require complete removal. When asbestos is suspected in the attic, a qualified specialist must be hired to do the removal work.
Removing asbestos-laden insulation should not be a DIY project – the health dangers and risks are far too high. This type of attic insulation removal requires expertise in order to ensure that the cleaned-up space is clean and ready for new materials to be installed.
For Home Insulation Services Choose Four Seasons Insulation
Whatever the scope of work, attic insulation work must be done right, including the safe removal of old deteriorated materials. Homeowners considering new attic insulation in Mississauga, Toronto, and the GTA, would do well to have space professionally inspected and assessed prior to any work being done.
When it comes to removing insulation, Four Seasons Insulation will recommend removal options, as well as any upgrades and/or retrofits that may be necessary. For attic insulation in Toronto, contact Four Seasons at 416-727-4181 or visit our website at www.4seasonsinsulation.ca.
We can arrange for a comprehensive attic inspection, and recommend products and installations that best suit the need. Our team will also identify energy efficiency issues that can be remedied for improved performance. This will ensure a comprehensive approach with optimum results.