How to Choose the Right Attic Insulation Company in Mississauga?
Posted in Attic Insulation, on October 12, 2020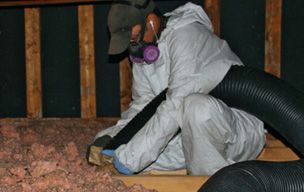 While many homeowners understand the importance of attic insulation, it's just as important to choose an insulation contractor that can deliver results. Homeowners shopping for attic insulation in Mississauga would be wise to choose an insulation company with the experience and expertise to match the project – anything short won't deliver the best results.
Four Seasons Insulation offers high-quality insulation in Mississauga and throughout the Greater Toronto Area. We install quality insulation products that provide seasonal comfort while reducing energy consumption and energy costs. In fact, when the attic is properly sealed and insulated the entire home will benefit year after year, during summer and winter.
Spray Foam Insulation for the Attic
In the attic, spray foam insulation provides better R-Values than other comparable products. The finished installation boosts energy efficiency and dramatically reduces heating and cooling costs.
While spray foam is considered a premium product, it's certainly a worthwhile investment.
Because spray foam is a unique product, the application requires expertise, and installers must be highly experienced. In the attic and roof cavity, spray foam seals and insulates far better than traditional products. The installation fills all holes, openings, crevices, gaps and cracks.
Important to Remove Old Insulation
In most cases, it's preferable to remove old insulation prior to installing new insulation. Here, an experienced professional contractor should be inspecting the installation space, determining if the existing materials should be removed, and recommending the best re-installation options.
Before installing new insulation, it's also important to identify additional issues that may require attention. For instance, rodents may have contaminated the existing insulation. Or, there may be ventilation issues that require improvement. Finally, the insulation may simply be deteriorating.
Choosing Four Seasons Insulation
For homeowners installing attic insulation in Mississauga, it's well worthwhile to hire an insulation professional. The professionals at Four Seasons Insulation install the highest quality products and ensure the highest standards of workmanship. It's the best approach for long-term results.
With Four Seasons Insulation, homeowners are assured of an attic that is appropriately sealed, insulated, and ventilated. When installing insulation in Mississauga, we also make all necessary repairs and retrofits so that the attic provides maximum energy efficiency for the entire home.
Insulation Requires Professionals
For attic insulation in Mississauga, the team at Four Seasons can do it all – from removing old insulation to repairs and retrofits, to installing brand new products. Our installers are highly qualified and our work is guaranteed. Before any work is done, we provide a comprehensive price quote.
In addition to installing spray foam insulation, we also offer blown-in cellulose for the attic. This is an eco-friendly product, with satisfactory thermal performance, and additional benefits. Cellulose insulation is mold resistant, improves air quality, and is treated with fire retardant for safety.
Find out more about insulation in Mississauga by calling 416-727-4181 directly and arranging for a professional in-depth home assessment. Or – visit our services page to learn more about the products and services offered.