Different Ways to Insulate Your Home This Fall
Posted in Attic Insulation, on October 16, 2020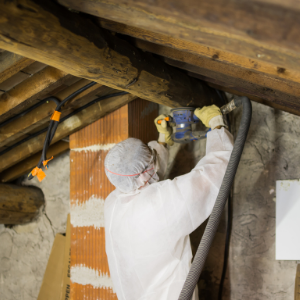 Suddenly, as temperatures drop and the weather changes, fall is the ideal time for homeowners to think about home insulation. Needless to say, there are countless ways to improve your home energy efficiency and enhance indoor comfort throughout the fall and winter.
With insulation, one of the most important considerations is the attic. Without enough insulation, the attic allows heat to escape, making the home feel cold and even uncomfortable. This "heat loss" also causes the HVAC unit to work harder and use much more energy.
Homeowners who are ready to hire an insulation company in Toronto should choose carefully – and give particular attention to a company that is highly specialized. More than that, it's key to have a company that can do it all, and manage the project from end to end.
A Variety of Options for Improving Home Insulation
Homeowners can do a lot to better insulate their homes – and everything helps when it comes to reducing energy consumption and improving indoor home comfort. For a start, it's important to properly maintain the HVAC system (heating and cooling). Additionally, professionals recommend effectively sealing all of the windows and doors. Finally, it's a good idea to upgrade thermostats.
For professionals, the most substantial way to enhance home insulation is to properly insulate the attic. This is the best way to reduce energy consumption and provide indoor comfort in winter and summer. As a recognized home insulation company in Toronto, Four Seasons Insulation offers an expertise in attic insulation – installing high quality products that deliver years of performance.
Spray Foam Insulation is Ideal for the Attic and Roof
There are numerous products on the market that can be installed in the attic and roof cavity. But there's one that stands out amongst the rest – that's spray foam insulation. It provides better R-Value than other products. It dramatically boosts energy efficiency and will significantly reduce seasonal heating and cooling costs.
Spray foam insulation is considered to be a premium product, but it's a worthwhile investment that provides an excellent return-on-investment. Spray foam is a unique insulation product, and the installation requires highly experienced installers. In the attic, the finished application seals and insulates better than anything.
When Insulating the Home, It's Better to go Professional
When it comes to home improvements, a DIY approach might well save some money. But with insulation it's always better to go with a professional. Four Seasons does it all from end to end – removing old insulation; making repairs and retrofits; and installing high quality product.
In addition to spray foam, we also offer a blown-in cellulose product for the attic. Cellulose is an eco-friendly product, providing satisfactory performance, and excellent dollar value. The finished application is mold resistant and fire resistant, providing enhanced comfort year round.
If you're shopping for a reliable insulation company in Toronto, call Four Seasons Insulation at 416-727-4181 and arrange for a home assessment and cost estimate. Or visit our website at to find out more about our range of products and services.
More Information on Home Insulation: