Which Attic Insulation Is Most Popular in Toronto?
Posted in Attic Insulation, on September 23, 2021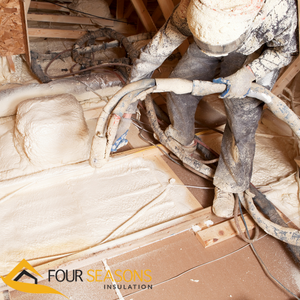 Wander down a hardware store's insulation aisle, and you'll quickly see dozens of different brands of attic insulation in Toronto. Ask around, and you'll find that most homeowners are talking about one type only: spray foam insulation. This popular choice of home insulation in Toronto is seeing an increase in demand over the past few years because it helps you conserve energy, protects your home against common insulation problems, and makes your living space more comfortable. At Four Seasons Insulation, we love installing spray foam insulation in Toronto — here's why.
Spray Foam Insulation is the Gold Standard
Renovations cost money — there's no getting around that. But nobody wants their renovations to fail, need frequent repairs, or need to be replaced after a newer, better thing comes to market. Spray foam insulation eliminates these common problems, full stop. The high performance, longevity, and quality that spray foam brings make it the gold standard of insulation products. There's nothing else on the market that performs quite the way it does, and with no maintenance needs, no top-ups, and no degradation, spray foam is the best renovation a savvy homeowner can choose.
Benefits of Choosing Spray Foam
There are tons of benefits to installing spray foam attic insulation in Toronto. Here are some of the common ones that the Four Seasons team likes to share:
It helps you reduce your heating and cooling bills by reducing energy leakage.
Spray foam is flexible, making it ideal for irregular spaces where traditional insulation suffers.
It seals cracks and gaps that cause air leaks.
Spray foam is hostile to mold growth — preventing all mold infestations.
One installation is all it takes. Spray foam does not settle or shift with time.
It is impervious to water, preventing wicking, humidity, or other types of moisture from moving between floors.
Spray foam helps to dampen sound, creating a peaceful home environment.
Schedule your Attic Insulation Installation in Toronto
If spray foam sounds good to you, don't believe us — ask our clients! With hundreds of positive reviews online, you'll quickly find that your neighbours are thrilled with their new home insulation in Toronto. At Four Seasons Insulation, we've found that spray foam works in many parts of a home, not just the attic. Spray foam is excellent in basements, in exterior walls, and in garages too!
Spray foam insulation is a product that benefits from a knowledgeable, professional application — it's not a DIY task. Careful application is essential to getting the most out of your new attic insulation and ensuring that it's installed corectly and safely. If you have any questions about spray foam insulation that aren't addressed on our website, please get in touch! Four Seasons is passionate about providing informed, easy-to-understand services so that you can make the best decisions for your home. Reach out to our team to learn more about attic insulation in Toronto through our contact page.