Get a Mold Inspection When You Buy a Home in Toronto
Posted in Mold Inspection, on September 28, 2021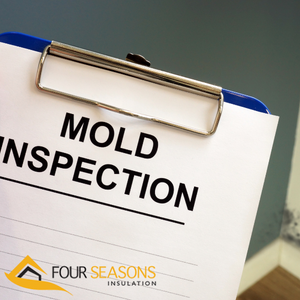 Purchasing a home in Toronto is a big decision. It's not just that isn't just an investment or place to sleep but a home where you're planning on creating lifelong memories. Mold inspection in Toronto and the GTA can ensure you're making the right kind of memories by helping you avoid costly mold issues before you sign on the dotted line. Whether you're an experienced homeowner or first-time buyer, professional air quality testing in Toronto with Four Seasons Insulation is a great way to check a future home for mold or other air quality issues.
What is a Pre-Purchase Mold Inspection?
Every realtor, Dad, or knowledgeable friend will tell you that a pre-purchase home inspection is a must before finalizing the purchase of a new home. A qualified professional will perform a pre-purchase inspection, during which they will analyze a potential property from top to bottom, looking for common problems with the roof, foundation, walls, electrics, and more. But few home inspectors are trained to look for mold growth or detect mold spores, meaning that dangerous and costly mold infestations might go undiscovered.
Benefits of Mold Inspections
During your regular pre-purchase inspection, book a Four Seasons Insulation technician to come and test your new home for mold growth. We can work alongside traditional home inspectors to use our specialized knowledge to detect mold infestations and issues like:
High humidity
Leaks, drips
Evidence of past flooding
Problem areas
Hidden or invisible mold growth
Attic ventilation or humidity problems
Foreknowledge of existing or potential issues can save you thousands of dollars and stress down the road, as well as being a fantastic bargaining tool. Knowing whether or not a problem is worth walking away from your dream home gives you confidence and simplifies the buying process.
How to Test the Air for Mold
Air quality testing in Toronto is non-invasive and quick and easy to perform. At Four Seasons Insulation, we subscribe to a mantra that's familiar to hikers — take only photographs (in our case, air samples), leave only footprints (and we won't even do that!). Beyond air samples, our mold inspections look at the interior and exterior of a home and inspect each floor using specialized tools and equipment that look for spores, visible mold growth, or humidity issues.
Get a Mold Inspection In Toronto or the GTA
At Four Seasons Insulation, we pride ourselves on our friendly and professional services for air quality testing, radon testing, and mold inspection in Toronto and the GTA. As one of the most overlooked aspects of the home and work environment, indoor air quality plays a critical role in your overall health and wellness. Mold has especially hazardous effects on children and elders and needs to be removed as soon as possible to reduce the length of your exposure. To learn more about Four Seasons Insulation's pre-purchase mold testing and inspection services, reach out to us today through our Contact Us page.