Should You Get a Vapour Barrier for Your Attic Insulation in Toronto
Posted in Attic Insulation, on October 01, 2021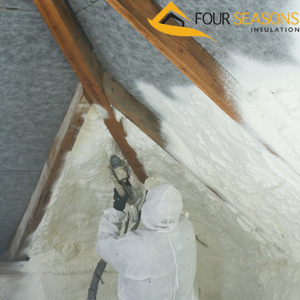 Moisture is the leading most cause of insulation damage and attic repair across the GTA. When installing attic insulation in Toronto, many homeowners want to know if a vapor barrier can help protect their new investment from mold, mildew, and other issues caused by moisture. At Four Seasons Insulation, we understand the role home insulation in Toronto plays in the fight against attic dampness and poor indoor air quality. Choosing the right type can help you eliminate future issues.
The Role Vapour Barrier Plays
Unlike the rooms you live in, the attic is designed for air and moisture movement, a system that helps to keep it in its ideal state: dry. When your attic insulation is old or damaged, ventilation can become compromised, and moisture can become a problem, leading to vapour transfer between your conditioned rooms and the spaces below.
A vapour barrier does what its name implies — it forms a block between you and your moist attic, preventing humid air from travelling between floors.
Reasons for Attic Insulation Vapour Barrier
There are great reasons to install a vapour barrier before you put in attic insulation in Toronto. In our experience, vapour barrier can:
Minimize dampness
A vapour barrier will be your first line of defense if your home or attic is affected by moisture. During the humid summer months, moisture is attracted to the cooler temperatures below, transferring from the attic to home, while in the winter, this situation is reversed.
Protect your home against mold
Humidity is the number one cause of attic mold growth, making the elimination of moisture a priority. At Four Seasons Insulation, if we see mold, we immediately test and look for water sources such as humidity, leaks, roof damage, or blocked ventilation. A vapour barrier can keep mold-prone surfaces dry and also prevent new sources of water.
Save on energy
Heat can travel (and escape) from your home in various ways, including in warm, moisture-laden air. Preventing this air from escaping into the attic helps you reduce energy waste, reducing your monthly heating and cooling bills — as well as controlling dampness and mold growth!
What Type of Vapour Barrier is Best?
The type of vapour barrier that may work in your attic depends on the needs of your home — and we can help! At Four Seasons Insulation, our qualified, experienced technicians will do a complete attic assessment before the installation of new home insulation in Toronto. We'll look for moisture issues, air leaks, pests, mold, and other common problems that a vapour barrier may be able to mitigate or eliminate.
One of the most common mistakes we see is vapour barrier installed over existing attic insulation — this is a recipe for disaster since air movement needs to be carefully balanced in the attic to prevent mold growth and other issues. To learn more about how vapour barriers can help your Toronto attic, get in touch with the Four Seasons team through our contact page.