What to Do If Your Attic Insulation in Toronto is Wet
Posted in Attic Insulation, on November 08, 2021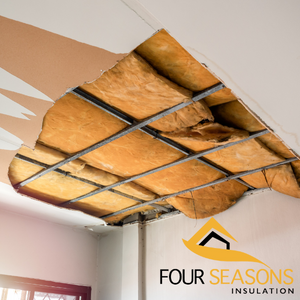 Annual attic inspections can give you a vital heads-up and prevent common issues that affect attic insulation in Toronto. One of the most common problems that Four Seasons Insulation comes across is wet insulation, which can be caused by many different factors. The most frequent outcome of damp insulation is attic mold removal in Toronto, since mold thrives in wet, moist, and humid conditions. How can you tell if your attic is humid, and what should you do if your insulation is wet?
Signs of Poor Attic Ventilation
There are a couple of common causes of wet attics. An event such as a big storm may introduce water or moisture for a short period, but it's sustained exposure to moisture that the Four Seasons team finds is generally the cause of mold growth.
Moisture in the attic is more often than not caused by poor ventilation. The attic is not the same type of space as a living room, where you want to control temperature and the amount of air exchange between the indoors and out. The attic needs to breathe to function correctly, and it's this breath that helps keep mold growth at bay
Ventilation in the attic can suffer for many reasons, such as:
Missing or damaged vapour barriers
Leaking pipes
Vents that end inside the attic cavity
Too much or too little ventilation
Air leaks
Blocked soffits
Why Insulation Removal is Important
Once your insulation is wet, it can be challenging to dry out, especially if the cause of the moisture isn't solved. Attic insulation quickly begins to degrade once it's wet, losing efficacy and safety. It becomes more vulnerable to pests, damage, and, most critically, mold growth. Once mold begins to grow in earnest on attic insulation, most homeowners will need attic mold removal in Toronto to halt its growth.
Attic mold doesn't just affect insulation; it can also begin to affect the structure of your home, growing on joists and sheathing. It doesn't stay put either — attic mold will eventually begin to affect other rooms in your home, and spores may travel and form new infestations. Attic mold removal puts the breaks on this process, saving you money as well as the headache and stress of indoor mold growth.
Schedule Attic Insulation Services with Four Seasons
Four Seasons Insulation recommends annual or biannual attic insulation inspection and mold testing whenever you have concerns about attic mold growth. Inspection can help you catch an infestation early and put a stop to the leak or humidity issue causing the outbreak. Mold causes health problems and indoor comfort issues, making home an uncomfortable and often dangerous place to be. It can cost thousands of dollars in damage and cost you thousands in lost energy.
Do you have questions about attic insulation in Toronto? Reach out to the friendly team at Four Seasons Insulation — we'd love to answer any of your questions about home insulation or mold growth.