Read This Before You Insulate Your Attic in Mississauga
Posted in Attic Insulation, on November 15, 2021
If you're wondering whether new attic insulation in Mississauga and the GTA can help your house stay warm this winter, the answer is yes! Regardless of the age of your home, attic insulation offers a considerable boost in home energy efficiency, with knock-on effects like better moisture control and fewer drafts. Working with a professional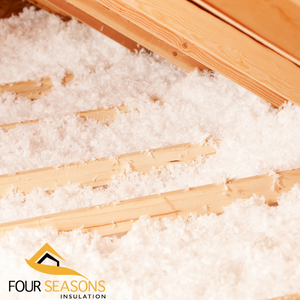 like Four Seasons Insulation ensures you get the best fit for your home and budget and feel in control the entire time. Here are three things the Four Seasons team will help you consider.
Choosing the Best Attic Insulation
Many people want to skip the preliminaries and go straight to the top of the stack: what is the best attic insulation? The answer, however, is more complicated than you think.
The proper insulation for the job may not be the most expensive, the highest R-value or even the most efficient — it all comes down to what your home and attic need to work at their best. Some attics may only need top-ups or maintenance work, while others might need complete overhauls and additional services like mold removal before new insulation is installed.
At Four Seasons, we primarily work with blown-in insulation and spray foam insulation since they offer homeowners protection, excellent R-values, safety, and flexibility.
Deciding on Your Desired R-Value
What is R-value? This industry term measures the ability of a given insulation to resist heat transfer. The higher the number, the more an insulation will protect your indoor spaces from the effects of the outdoors.
Choosing the right R-value is similar to the best insulation — a better rating won't always give you better results. The insulation with the highest rated R-value may not be appropriate for the space or use you need it for, which is why the team at Four Seasons will help match you with the product type and R-Value that bests fits your project's needs.
Hiring Insulation Installation Services
While the savvy DIYer might choose the right insulation and R-value, we recommend against installing insulation yourself. Working with a professional home insulation company like Four Seasons Insulation ensures your safety before, during, and after installation. Installing something right the first time doesn't just save you money and time, and it also protects you from common mistakes that can quickly create more problems or damage your new product. We also have the tools, equipment, and training to ensure the job is completed cleanly and promptly, with minimal mess and disruption to your day-to-day.
New attic insulation in Mississauga and the GTA can bring signficant improvements to your home's functioning, reducing load on your furnace, decreasing air leaks, and helping eliminate mold, mildew, and humidity issues. To learn more about these amazing benefits and explore some of the options Four Seasons offers, get in touch with our team!