How to Tell if Mold is Toxic & If You Need Mold Removal Services
Posted in Mold Inspection & Removal, on November 23, 2021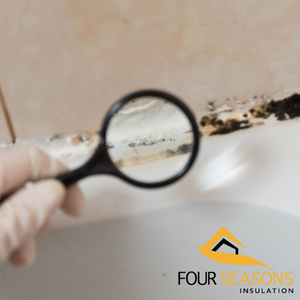 Finding mold growth at home can be scary — beyond the damage it causes, many species of mold are toxic and can cause dangerous health effects. Mold removal in Toronto with Four Seasons Insulation can help you eliminate all types of mold and return your home to a healthy and safe haven. There's no way to tell if mold is dangerous to your health without professional consultation, so if you're not sure what you've found, mold inspection in Toronto and the GTA will help you find answers.
How to Tell if Mold is Toxic
There are thousands of different types of mold that grow across the world, and many cause allergic reactions like:
Itchy eyes
Sinus issues
Headache
But how can you tell if mold is having more insidious, toxic effects? Unfortunately, there's no straightforward way to tell. Mold species may share colour, texture, and growth patterns that make them impossible to tell apart. Then there are your unique health risks and needs; for example, people with asthma tend to be more at risk when exposed to mold. While knowing whether mold is toxic or not can be significant, it's far more important to eliminate it as soon as possible — getting rid of any health effects, period.
Health Effects of Black Mold
Black mold shares many of the health effects of less toxic molds, but it is more dangerous. When people talk about toxic black mold, they're usually referring to Stachybotrys Chartarum, but many types of mold can produce harmful mycotoxins. These mycotoxins can cause effects like:
Pneumonia
Shortness of breath
Respiratory problems
Nausea
Dizziness
Cognitive issues
Fatigue
Mold Removal
If you've found mold in your home, Four Seasons' advice is to have a mold inspection in Toronto and the GTA as soon as possible. This simple and generally non-invasive procedure will identify any areas of concern and look for mold growth and its causes. Our tests and samples can locate mold growing hidden behind walls or under carpeting, alerting you to hidden dangers.
Mold removal completely and safely eradicates indoor mold growth. Because of its potential for toxicity, safety during removal is a priority for our team — our work sites are always securely contained, with negative pressure and industrial-strength air purification. Any affected materials are securely removed to prevent cross-contamination, and the site is always thoroughly cleaned before we take any next steps.
Four Seasons insulation always recommends professional mold removal in Toronto because mold is easily disturbed and maybe unknowingly spread without proper precautions. Our teams are carefully trained in the latest mold remediation technologies and safety procedures to protect you during our work.
Most instances of mold cause minor allergic reactions, but because it's difficult to tell whether or not it's toxic from visual examination alone, it's always best to have your questions answered by a professional. To learn more about Four Seasons Insulation's mold removal services in the GTA, reach out to our team online or by phone.