Budget Hack: Install Attic Insulation To Save On Energy
Posted in Attic Insulation, on December 03, 2021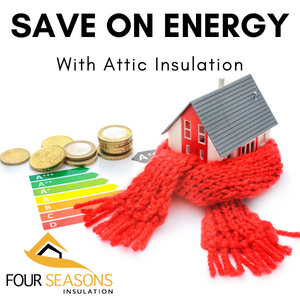 Installing attic insulation in Toronto can really pay off, as it can help fight energy loss, which can save you money on your heating and cooling bills over time. The attic is the area of your home that is most susceptible to heat loss in the winter and heat gain in the summer. The insulation you install in your attic can significantly reduce the amount of heat lost through your roof. This is why Four Seasons recommends spray foam insulation for Toronto attics.
How Much Energy Are You Wasting
Routinely, homeowners wonder if their insulation is thick enough to help lower energy costs. However, not evaluating your insulation isn't the only thing that could be wasting your money. Additionally, you could be losing out on energy savings if you don't have proper attic insulation installed in the first place!
When your attic is adequately insulated, it becomes a more comfortable living space and, keeping more heat inside of your home will help you cut down on your energy bills.
When it comes to insulating your attic, the last thing you want to do is try to tackle it yourself. Excessively high temperatures in your attic can be caused by improper insulation or the lack of insulation at all. If your attic insulation is not correctly installed, it can lead to air leaks which cause heat to escape out of your home. If your attic is warm, you are losing money!
Estimates show that having the proper amount of insulation in your attic can reduce heating costs by as much as 30%. For an average two-storey house built with R-20 (1300mm) of spray foam insulation, you could save up to $379 on energy bills each year.
Benefits Of Energy-Efficient Homes
The benefits of attic insulation are numerous. Attic insulation is one of the most important parts of any energy-efficient home.
They are better for the environment, healthier for your family, and increase the value of your house.
It can help reduce your cooling costs dramatically by keeping cool air in during summer and warm air in during the winter.
By keeping the air inside your home at a consistent temperature, you can also avoid mold and mildew, which can be huge savings if you live in a climate where mold and mildew are a problem (like ours!).
Other Ways To Make Your Home More Energy Efficient
When it comes to cost savings, most homeowners find themselves wondering which of the three is the best option: insulation, air sealing and adding a vapour barrier. The truth is that each method provides an energy-saving benefit in one way or another.
Today, homeowners are trying to make their homes more energy-efficient by installing more energy-efficient windows and doors. If you're trying to achieve energy efficiency through your home, it's essential to include attic insulation in your plans.
Attic insulation is an easy way to lower your energy costs. Your home's attic is the top factor in whether or not your heating system has to work harder to heat or cool your home. This is just one of many ways that attic insulation can save you money on your utility bills. Contact us today.