Be Ready for Winter With an Insulated Attic in Mississauga
Posted in Attic Insulation, on December 06, 2021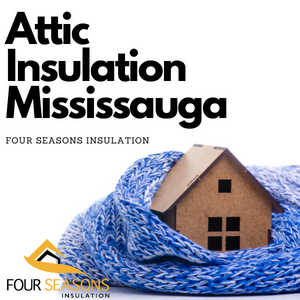 Winter is here, and we've pulled out our warm socks and winter jackets — but is your house ready for the cold? Attic insulation in Mississauga with Four Seasons Insulation is a great way to make sure your living space is protected when the mercury drops. Adding spray foam insulation to your attic is sort of like pulling on a woolly toque for your house — it's a must during a Canadian winter!
Preparing your Attic for Winter
Your house is the barrier between you and the winter weather, and making sure it's prepared to withstand the winter's wind, snow, ice, and freezing temperatures has long-term benefits. At Four Seasons, we recommend a little bit of attic maintenance to keep your home snug as a bug.
Insulate the attic floor.
Cold air may be seeping into your bedroom if there's space between your attic joists and the ceiling of your room. Insulating this space can help prevent heat transfer and chilly rooms.
Ventilate the attic right.
Attics need to breathe to prevent moisture build-up. Condensation, leaks, or humidity can be the catalyst for mold growth, which quickly destroys insulation.
Insulate wires, pipes and ducts.
Protecting your wires and ducts from the cold helps them function better and more efficiently and prevents pipes from bursting in the cold.
Signs Your Home Requires More Attic Insulation
You don't have to be an attic insulation expert like the Four Seasons team to know when it's time for an insulation upgrade. Here are a few of the common signs your home needs more insulation:
You experience drafts
You have high heating and cooling bills
Your furnace is constantly running
Your upper levels are cooler than your main floor
You haven't upgraded your insulation in the last decade.
Benefits of Attic Insulation
There are many different types of insulation on the market, but at Four Seasons Insulation, we have a favourite: spray foam insulation. This modern, highly effective insulation has very few drawbacks and plenty of stellar benefits that allow it to excel in the attic. We recommend spray foam insulation for the attic because:
It offers superior coverage and is flexible for shapes and curves.
It needs only one application.
It lasts decades longer than traditional insulation.
It helps soundproof your home.
It acts as an air and moisture barrier in one — no need for additional products!
Many of our clients report energy savings on their first bill post-installation, and, unlike the value of your car, these savings won't depreciate over time.
Spray foam insulation must be installed professionally to ensure that you have a safe and correctly applied product. If you're interested in knowing more about installing spray foam as your attic insulation in Mississauga, reach out to the Four Seasons team to learn more about our services.