What is the Best Insulation For Attics In Toronto
Posted in Attic Insulation, on February 26, 2021
There's no question that homes in Toronto have to be adequately insulated – especially when it comes to home comfort in winter. As such, it's essential to insulate the attic and roof cavity with a quality product. For attic insulation in Toronto, local homeowners get the best results when working with a professional.
In most homes, the attic space is "out of sight" and likely "out of mind." When that space is poorly insulated, it can lose 30% of indoor heat in winter and waste a lot of money. Homeowners who opt for spray foam insulation in Toronto can considerably upgrade energy efficiency while significantly improving comfort.
The truth is, attic insulation in any home won't last forever. In fact, most conventional insulation products lose performance over time. Eventually, the signs and symptoms of poorly performing insulation will surface. What's important is to recognize those symptoms and take the necessary corrective measures.
Poorly Performing Attic Insulation
When attic insulation performs poorly, Four Seasons Insulation can pinpoint the problem areas and provide practical solutions. We install high-quality attic insulation in Toronto with a choice of products to suit the need. In any home, there could be a number of problem areas.
in the wintertime, the upper floors are colder than the main floor
in the summertime, the upstairs is much warmer than downstairs
existing insulation material in the attic may have settled down
HVAC system (heating and cooling) seems to be over-working
seasonal heating and/or cooling costs are continually rising
Spray Foam Insulation in Toronto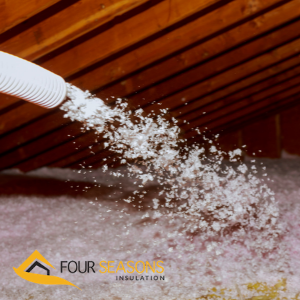 Spray foam insulation is a unique product, typically outperforming almost every product on the market. With a single application, spray foam creates a super-effective "thermal envelope." A professional application ensures excellent R-Values, much-enhanced energy efficiency, and noticeably improved home comfort.
Spray foam insulation will reduce the demand for heating and cooling (HVAC). As such, seasonal utility bills are reduced because less energy is being used. The product is particularly suited in the attic and roof cavity because the space can be effectively air-sealed and insulated (even the smallest holes, cracks, and crevices).
When it comes to installation, spray foam requires both experience and expertise. It's certainly not a weekend DIY project for any homeowner. And while spray foam is considered a premium insulation product, the upfront costs are certainly worthwhile over the long term. The "payback period" is only a short few years.
Installing Blown-In Cellulose Insulation
Another effective product for the attic is blown-in cellulose insulation. It compares quite well with other products and provides satisfactory thermal performance in the attic and roof cavity. Blown-in cellulose also resists mold, dampens noise, and improves air quality throughout the home.
Many homeowners have benefited from the blown-in cellulose product when it comes to quality attic insulation in Toronto. With proper air sealing, blown-in cellulose improves home energy efficiency, enhances winter comfort, and lowers energy bills throughout the summer and winter.
Installation cost will depend on various factors: the scope of installation work, the number of repairs required, and the size of the attic and roof cavity. At Four Seasons Insulation, in-house installers will recommend the product and installation options to deliver long-term results.
Choosing a Professional Attic Installation Company In Toronto
For attic insulation in Toronto (and spray foam insulation in Toronto), the best long-term outcomes are ensured with a professional installation. Whatever the product choice, it's better to do the work right the first time, with an insulation contractor with experience and expertise.
With Four Seasons Insulation, homeowners are assured of a quality approach n every project. We offer a FREE home inspection and recommend insulation options based on the specific needs of the home. This is especially relevant in an attic since every home is uniquely different.
Four Seasons Insulation Provides Services in Toronto and the GTA
Four Seasons Insulation provides full service from start to finish. Our installers are protected through the Workplace Safety & Insurance Board, and we provide a safe workspace on every project, thus protecting both our workers and our customers.
Learn more about our products and services by calling 416-727-4181 directly or visit our website at www.4seasonsinsulation.ca, where you can request a price estimate on your particular project.