Best Advice for Managing Air Leaks in Your Home
Posted in Spray Foam Insulation, on March 08, 2021
Air leaks can play havoc with your home's energy efficiency, costing you hundreds of dollars in high energy bills. A 'leaky' home is also a health hazard as it allows outside pollutants and moisture to enter your home. Sealing the air leaks is a simple and cost-effective solution to improve your home's energy efficiency, cut energy costs and create a healthy home environment. Hiring an expert attic insulation service like Four Seasons Insulation will ensure a thorough & professional sealing and insulation job for you. If you can feel air drafts inside your home, it may be time to tackle those air-leaks! Read on for a low-down on air leaks by the pros at Four Seasons Insulation, the #1 in attic insulation Toronto.
What is Air Leakage?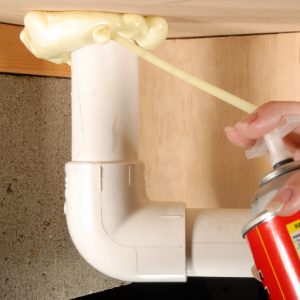 Air leakage occurs when the conditioned air inside your home escapes your home through cracks or gaps while outside air enters your home. Cold winter air can sneak in through the window crevices, and the heated air inside can leak out, making your home heating run overtime. The same goes for hot summer air coming in and the cool air-conditioned air escaping outside. These annoying air leaks can occur almost anyplace there's an opening—near windows & doors, cracks in the home exterior, basements and attics. Such air leakage can also cause moisture issues that can adversely affect your health and home's durability.
How To Detect Air Leaks
You can hire a professional to assess the energy efficiency of your home through an energy audit. The energy auditor can perform a door blower test and thermal imaging to detect even the smallest of leaks. He can also pinpoint areas that require more insulation.
You can also do a DIY energy audit and detect some air leaks on your own.
Try a visual inspection outside your home:
Check all exterior corners and junction points, like where the front door is joined to the wall or where the chimney meets the ceiling. If you can see daylight coming through, it means that the weatherstripping needs to be replaced.
Inside your home, inspect for any cracks and gaps around:
Door and window frames
Weatherstripping around doors
Electrical outlets and gas service entrances
Baseboards
Fireplace dampers
Attic hatches
Around wall/window air conditioners.
Attic and basement vents
Check the caulking and weather stripping—see that they are in good condition with no cracks or gaps in between. Check for leaks around the window frames, and doors with the daylight test—daylight around a window or door means a leak.
Sealing an Air Leak
Air leaks can be sealed in two ways—caulking & weatherstripping. Caulking is usually done for leaks in cracks and joints less than ¼ inch in size. Use a weatherproof caulk for such gaps, while cracks larger than ¼ inch can be sealed with expandable foam spray insulation. Spray foam insulation not only provides a better R-value but also reduces your seasonal heating and cooling bills!
Caulk and seal air leaks around spots where the ducting, plumbing or electrical wires come through the walls and ceilings. Clear or paintable silicone caulking should be used to caulk around windows and doors.
Replace old or damaged weatherstripping. You can use either compression or V-strip type weatherstripping for effectively sealing the doors.
Plugging Other Culprits
Remember to close the fireplace flue damper when not in use. Using pliable sealing gaskets on door bottoms can also help plug heat loss. Basements and attics are the other culprits causing air leaks. Since they are the most neglected, we often miss the obvious leaks there. The attic is especially vulnerable to leaks as it has many joints and consequent air-leakage points— electric wire passages, chimneys, exhaust vents and plumbing stacks. Sealing multiple leak points in your attic or basement can be tedious but well worth the effort. You can use high-expansion insulating spray foam and caulking to seal the gaps and joints on the wall edges and along the wire passageways. While DIY is a great approach, it is always better to go with professional expertise. Hiring an expert attic insulation service like Four Seasons Insulation will ensure a thorough & professional sealing and insulation job for you.
The Last Word
Follow these tips to find and seal all pesky air-leaks in your home to save big and stay safe. Experts opine that air-leakage can cause your home to lose up to 30% of its energy! Effectively sealing your home for air-leaks is a smart investment. However, air-sealing needs to be complemented with proper insulation to reap maximum benefits. Adding insulation can save you another 10-20% on your heating costs! Enjoy a comfortable home environment, lower heating bills, and superior air-quality—season after season. Engaging a competent attic insulation service will ensure a professional energy audit and help you manage your air-leaks and insulation woes with ease.
Ready to Plug Air Leaks & Drafts Across Your Home? Trust the Pros at Four Seasons Insulation!
If you're looking for reliable attic insulation in Toronto, look no further than Four Seasons Insulation. Our trained crew has the experience and the expertise for flawless, end-to-end air-sealing & attic insulation service. Dial 416-727-4181 or email us at info@4seasonsinsulation.ca for a free home inspection and cost estimate today!
Your safety is our priority—We're taking extra precautions to protect our customers & staff in the wake of the COVID-19 pandemic. Enjoy the most effective, end-to-end 'contact-free' service from Four Seasons!