What Is the Most Eco-Friendly Type of Attic Insulation?
Posted in Spray Foam Insulation, on March 17, 2021
Effective attic insulation can improve the air quality in your home, reduce your energy costs, prevent the degradation of your home's structure, and reduce HVAC wear and tear. However, it is also worth noting that not all attic insulation compounds are ideal for the home. If you are thinking about getting attic insulation in Mississauga & the GTA, consider getting an eco-friendly type of insulation. Opting for eco-friendly types of attic insulation will save you and your family from having to deal with the effects of harmful insulation-material chemicals, which may include allergies and respiratory problems. Most attic insulation contractors will recommend attic insulation that is eco-friendly and non-toxic, with our personal recommendation being blown-in insulation.
What To Consider When Looking For Eco-friendly insulation:
1) How a Material Responds to Moisture
Water-proof attic insulation is the way to go. Insulation that isn't water-resistant can trap moisture from outside and can end up causing the decay of the roof deck and even premature roof failure in extreme cases. Water-soaked attic insulation is also a breeding ground for mold and mildew, which is the very thing the insulation is meant to prevent.
2) Whether It Will Meet Fire Safety Regulations
Depending on the size and design of an attic, attic insulation contractors may end up having to use significant portions of insulation materials when doing attic insulation. The last thing you need is an attic packed full of highly flammable materials; that's a disaster waiting to happen. The insulation material should be a fire retardant. That's the only way it can pass fire safety regulations.
3) The Potential Hazards of Working with the Material in the Factory or On-Site
You also need attic insulation in Mississauga & the GTA that will hold even when exposed to extremely high temperatures. The heavy machinery or equipment in factories or work sites may generate a lot of heat, so the roof insulation materials used in such establishments ought to be heat resistant, non-flammable, and incapable of melting.
4) How effective the material is at different thicknesses
Most attics have hard-to-reach corners and ends, and so having an attic insulation material that can reach into such tight spaces is always an advantage.
5) Whether the R-value satisfies criteria for any green building qualification you're pursuing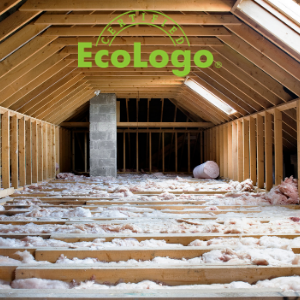 The R-value or resistance value of an attic insulation material relates to its ability to resist heat penetration. Therefore, the higher the R-value of insulation material, the better its ability to shut in the heat in your home. The Environmental Protection Agency says that it is possible to save up to 15 percent of your home's heating and cooling costs when you use an ideal attic insulation material.
One eco-friendly attic insulation material that fits the bill in all the above accounts is Walltite ECO. Walltite ECO is a polyurethane foam insulation material that includes recycled plastic and an ozone-friendly blowing agent. It fills gaps effectively, ensuring airtight and water-proof insulation that lasts and lasts.
Why Choose Walltite ECO?
1) It is economically responsible.
Because Walltite ECO is a lower density, closed-cell foam, its production process does not take much energy. Also, because it is packaged as a liquid concentrate, it also doesn't cost much to transport. In addition, when being applied, Walltite ECO can expand up to 32 times its volume. Therefore, a just vial of this product can cover a large area.
2) Low labour costs.
Walltite ECO is just sprayed onto the intended surface and left to dry. As a viscous, self-adhering product, it quickly takes to the shape and form of the surface upon which it is applied and bonds to it, making it easy to manage it.
3) Walltite ECO is also not harmful to the environment.
Walltite ECO contains bio-based polyols taken from rapidly renewable materials like Castor Oil. It does not contain any toxic substances.
4) It creates an air-tight seal
When Walltite ECO dries, it creates an air and vapours virtually impenetrable barrier. This means that mold and mildew cannot thrive when Walltite ECO is applied.
5) An ideal R-Value
The latest version of Walltite ECO (Walltite ECO v.3) offers an R-value of 6.2 per inch. To put this in perspective, loose-fill cellulose offers an R-value of 3.7 per inch, while loose-fill fibreglass comes in at 2.8 per inch.
If you're in search for reliable attic insulation contractors in Mississauga & the GTA, call Four Seasons Insulation. Our experienced crew has the expertise for flawless, end-to-end air-sealing & attic insulation service. Dial 416-727-4181 for a free home inspection and cost estimate today!
In the wake of the COVID-19 pandemic, we have optimized our home insulation services to minimize contact between our customers and staff. Your safety is our priority— Enjoy the most effective, end-to-end 'contact-free service from Four Seasons Insulation!