Attic Insulation Removal in Toronto
Posted in Attic Insulation, on April 07, 2021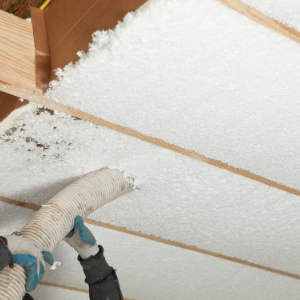 When installing new attic insulation in Toronto, it's best to start with a clean slate by safely removing any old insulation. Insulation can become damaged in many different ways, but once it's compromised, it loses efficacy and may become a health and safety hazard. As one of the premier insulation companies in Toronto, Four Seasons Insulation has safely removed old and damaged insulation in neighbourhoods across the city, regardless of the house's age or type of insulation.
Why We Recommend Insulation Removal
There are many benefits to working with a professional insulation company in Toronto. Some of these benefits include:
Upgrades made easy: Removing all of the old insulation product allows for safe and well-planned upgrades to take place without needing to fish around in crumbling materials and with good, clear sight-lines.
Great air sealing: One of the most common problems we see with insulation is poor air sealing. Air leaks from inside your home make it hard for insulation to do its job and can lead to damage.
Professional inspection: Some insulation is in great shape and only needs a top-up, while others require a complete overhaul. Our experienced eye can quickly tell if more investigation is necessary.
Lowers the risk for Sick Building Syndrome: This serious and often life-threatening syndrome has made thousands of people sick across North America and is linked to poor airflow, harmful chemicals, and mold growth, among other issues. Clearing out dangerous or infested attic insulation can help you lower the risk for Sick Building Syndrome and improve your indoor air quality.
Improves energy efficiency: New attic insulation in Toronto is a renovation that pays for itself all year long by lowering your costs for heating and cooling.
What is the Cost of Insulation Removal?
Removing your attic insulation and replacing it with fresh insulation can range in cost depending on several variables. The area's size and scale is one aspect of the total cost, while the insulation material is another. We offer upfront and honest quotes that come from thorough inspections and consider your needs and budget to help you find the right solution for your home.
Where Can Insulation Be Removed?
We can remove insulation wherever it is installed in your home, cottage, or business. Insulation is commonly found in attic and exterior walls, but we've also removed and installed insulation in spaces like the basement or under flooring.
How to Remove Insulation?
At Four Seasons Insulation, we highly recommend that you work with a professional to remove attic insulation in Toronto. Old insulation may contain harmful materials like asbestos and could be affected by mold, pests, or animal waste. A professional removal ensures that old insulation is removed safely and that your attic is clean and ready for modern insulation installation. If you have further questions about insulation removal in Toronto, call or email to talk with one of our technicians.