How to Save Money with Blown-In Attic Insulation
Posted in Spray Foam Insulation, on April 09, 2021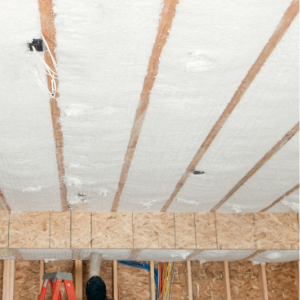 One of the first things homeowners consider when thinking about saving money in the household is cutting down electricity bills. And there are many ways to do it. Some methods are cheap and easy, while some are more expensive and complicated to implement. So, a fair question is: What is the most cost-effective way to save up on electricity in the household? The answer is good attic insulation in your Toronto home. But can you get quality insulation and save up on electricity without investing thousands of dollars? Yes! Getting blown-in insulation for your attic is probably the least expensive way to successfully prevent loss of heat during the cold winter months, as well as heat gain in the summer. Hiring a professional attic insulation service will ensure the best work quality and a quick return on investments.
Blown-In Insulation Basics
There are several reasons why blown-in insulation is the optimal way to save up on energy. If you own an average-sized home, investing only $600-$800 in blown-in cellulose insulation should cover your entire attic. Poorly insulated attics waste a lot of electricity, and this method will reduce energy bills by at least 10%. With an average monthly bill of $150 in Toronto, you'll get a return on your investment after only four years. Not a bad deal at all. Besides being friendly to the pocket, blown-in attic insulation is also eco-friendly and doesn't cause allergies. Cellulose is a natural material that doesn't irritate the skin and lungs. Blown-in insulation is also easy to install, requiring only standard equipment.
Supplies Needed
Protective equipment:
Gloves
Respiratory mask (at least N95)
Safety glasses
Clothes that cover the entire body
Tools:
Exacto knife
Stapler
Permanent marker
Tape
Headlamp (if the area is dark)
Boards (to walk on)
Vacuum (preferably with HEPA filter)
Blower machine
Caulking or expanding foam
How to Properly Insulate the Attic
Inspecting the attic thoroughly for nooks and crannies and sealing them with expanding foam (for holes bigger than a quarter) or caulking (for holes smaller than a quarter) before applying insulation is very important. Invested time, money and hard work can go to waste if the outside air can penetrate the insulating material. The same principle goes with the vents – it is advised to get chutes that will prevent the outside air from getting in.
The next step in the process is to determine the insulation level that is optimal for the specific attic. Experienced inspectors from professional attic insulation services will estimate how much material is required and which surface areas need to be covered for proper insulation. They will also efficiently set up the insulation, covering all key areas, thus ensuring that the entire process is cost-effective.
If you are looking for a trusted, professional attic insulation service in Toronto, reach out to Four Seasons Insulation. Our experienced inspectors are ready to help you save money and make your home more environmentally friendly. Hiring Four Seasons ensures quality and a quick return on your investment.