Upgrade Your Attic Insulation for Maximum Energy Efficiency
Posted in Attic Insulation, on March 02, 2022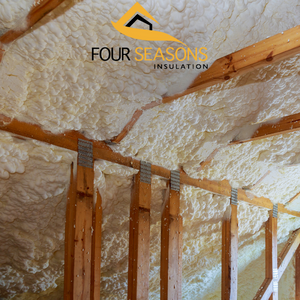 As the weather gets more extreme in the GTA, many of us are looking for ways to save on home heating and cooling costs. At Four Seasons Insulation, we have one great solution to rising energy prices — attic insulation in Toronto. Thousands of homes across the GTA have insufficient or outdated insulation that could be costing them thousands of dollars in inefficiencies. Spray foam insulation in Toronto is one excellent method to combat inefficient energy use and make your home cozy all year round.
Spray Foam Insulation Basics
What is it? Spray foam insulation is super-efficient modern insulation material. It is a type of polyurethane foam that begins as two liquids that expand on contact.
Where can it be used? Many places! While spray foam insulation excels in the attic, you can also use it in the floor or exterior walls.
How is it installed? A professional team should install spray foam insulation. Careful application and preparation is required for a successful application and long-term success.
Is it safe? Spray foam insulation is safe and non-allergenic.
The Cost of Attic Insulation in Toronto
Most homeowners in Toronto don't know much about their attics — after all, there's rarely a reason (or easy way) to get up there. This means that the attic is often neglected during home improvement and maintenance.
Our approach to the attic at Four Seasons Insulation is that it's a sort of hat for your house — it works all year round to insulate your home from the weather and prevent heat transfer. Adequate attic insulation in Toronto is just as important as the roof in preventing your home from heating up in the summer and cooling down in the winter.
Attic insulation costs are difficult to pin down because they will be different for every house on your block. Some factors that affect the price of spray foam insulation in Toronto include size, access, and kind of insulation used (closed cell or open cell). If you'd like a quote for your home, Four Seasons is happy to provide one — reach out and ask!
Prepping for an Insulation Upgrade
The most important part of insulation improvements is the preparation. At Four Seasons, we take insulation removal as seriously as installation — getting rid of the old stuff can reveal issues and eliminate problems with mold or pests that were invisible before.
Once we remove old insulation, we thoroughly inspect the attic to seal any air leaks and cracks. We'll also take measurements to determine the amount of insulation needed to achieve a desirable R-value and bring any additional supplies needed to ensure our work happens cleanly and efficiently.
Improvements to your attic insulation in Toronto will help balance your indoor temperatures, reduce strain on your furnace and air conditioner, and help lower your energy costs, making your home more efficient and green. To learn more about Four Season's methods and products, use our contact page to get in touch with a team member.