Understanding Attic Insulation in Toronto
Posted in Attic Insulation, on May 02, 2022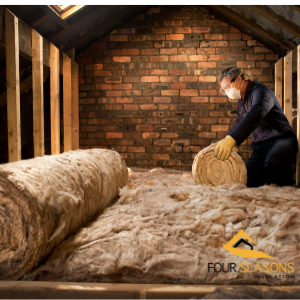 In order to understand attic insulation in Toronto, it is important to first understand what attic insulation is and why it is important. Attic insulation is the process of insulating the space between your attic floors and the ceiling by filling this cavity with loose materials, usually cellulose or fiberglass insulation. By doing this, you are essentially creating a barrier between the outside elements and your home, which can help to improve energy efficiency and prevent mold growth.
There are many different types of attic insulation on the market from blown-in to spray foam insulation in Toronto, and it is important to choose the right type for your home.
The Importance Of Attic Insulation
The best thing you can do to help your home be as energy-efficient as possible is to insulate it properly. If your attic insulation is old or of poor quality, it will force your home HVAC system to work harder to keep you comfortable in the summer and winter. Also, if your attic isn't properly insulated, it can lead to moisture problems and even mold growth in the home.
Types Of Attic Insulation
There are many different types of insulation products; however, the most common are fiberglass, cellulose and spray foam insulation in Toronto.
Some factors to consider include the climate in your area, as well as the type of material you want to use. For example, if you live in an area with extreme temperatures, you will want to choose an insulation material that can withstand these conditions. Similarly, if you are looking for an eco-friendly option, there are now sustainable attic insulation options available made from recycled materials.
Materials To Choose From
Most commonly used attic insulation materials:
Cellulose
Spray Foam
Recycled Denim
Mineral Wool
Cellulose
Cellulose is made from recycled newspaper and can add a lot of R-Value to your attic. However, it's about half the price of fiberglass. The main downside to cellulose is that it can be messy to install and not very effective in sealing air leaks.
Spray Foam
Spray foam is more expensive than cellulose but is much more effective at stopping air leaks.
Recycled Denim
Homeowners have also been known to use recycled denim insulation, which is basically pieces of old jeans quilted together with air pockets trapped in between.
Mineral Wool
Mineral wool insulation is made of stone or slag. It has a low R-Value but can be good at stopping air leaks. If you decide to use mineral wool, make sure it's reinforced with another material like cellulose or foam because mineral wool isn't very strong by itself.
Once you have chosen the right type of attic insulation for your needs, it is time to install it. If you are comfortable doing so yourself, there are DIY kits available for purchase. However, if you would prefer to hire a professional contractor, there are plenty of companies that offer installation services such as Four Seasons Insulation. Before choosing a contractor, be sure to ask questions about their experience level and what type of warranty they offer on their work. Once installed correctly, attic insulation can last for many years without needing replacement.
Contact Four Seasons Insulation today to book our high-quality attic insulation services in Toronto.