Installing Spray Foam Insulation in Your Mississauga Attic
Posted in Spray Foam Insulation, on May 09, 2022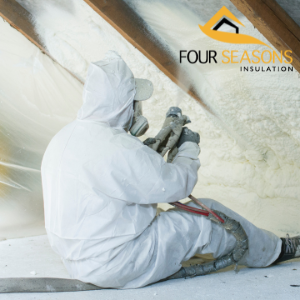 Spray foam insulation is a fantastic way to insulate your home and increase its efficiency. It's an investment you'll love for the rest of your life, but it's not for everyone. It's important you understand how just how spray foam insulation works and how you can use it effectively to avoid costly mistakes. Before you run to your local insulation company and hire them to install attic insulation in Mississauga, you should know a few things.
Understanding Spray Foam Insulation
Spray foam insulation is one of the most suitable types of attic insulation to use. The insulation product allows air to freely move in and out of the attic space while also effectively sealing your home's thermal envelope so you can reduce energy consumption and save money on utility bills. While spray foam insulation is efficient and effective, it's not the best option for every attic. Before you have the attic filled with foam, here are 2 things to consider first.
What To Consider:
Ventilation
With spray foam insulation, it's important to ensure proper ventilation in your attic. Spray foam insulation works by emitting a gas that expands to fill the cavity and make the foam expand and solidify, trapping air inside. That's why the spray foam installation process is so important; you have to have space for the expanding gas, or it will simply push out any air that is already there and make a mess of your attic.
The Weight
No matter what anyone tells you, spray foam will save you money in heating and cooling when compared to fibreglass or cellulose blown-in insulation. The reason it's not ideal for every attic is because of its "specific gravity." SPF weighs 2 pounds per cubic foot when fully cured, which makes it difficult to move around the attic. If you don't want to add weight to your roof by spraying a semi-solid layer of foam over top of your existing insulation, replace the fibreglass with new blown-in cellulose.
Preparing For Attic Insulation Installation
When you're ready to insulate your attic, the first thing you need to do is prepare the space. This means ensuring that there's no debris or clutter and that the area is clean and dry. Once you've done this, you can start the insulation process.
The most important thing to remember when installing insulation is to not overdo it. It's easy to get carried away and add too much insulation, but this can actually be counterproductive. Too much insulation will make your home harder to heat and cool, so it's important to find the right balance.
Finally, once your insulation is installed, be sure to check for any leaks or drafts. Sealing these up will help ensure that your home is as energy-efficient as possible.
What Is The Best Attic Insulation In Mississauga?
Spray Foam Insulation is the best choice!
It's very crucial to consider insulation prices before installing insulation in your attic. Although spray foam insulation is a little bit more expensive than other types of insulation materials, it has many advantages that make it much more affordable in the long term. Spray foam insulation is the most energy efficient form of insulation available on the market today. Spray foam will reduce your energy consumption and lower your heating and cooling costs overall. Spray foam will also provide a better home comfort level by helping to eliminate air infiltration and seals gaps around wiring, plumbing and ducting. With spray foam, you can be sure that you have found the right insulation solution for your home.
Depending on the amount of space available in your attic, you can opt for either closed cell or open cell spray polyurethane foam (SPF). Both options are equally effective at insulating your home and providing thermal protection from extreme heat or cold.
If you want to learn more about the spray foam insulation services we offer and how it can help you to save on energy costs, contact Four Seasons Home Insulation today. Our experienced insulation contractors can help you find the best eco-friendly solution for your home and meet all of your insulation needs.