Is Attic Insulation In Brampton Tax Deductible?
Posted in Attic Insulation, on May 16, 2022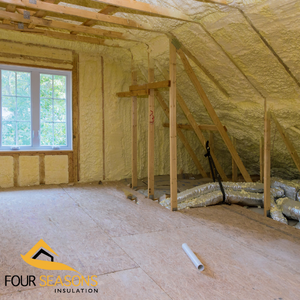 Here at Four Seasons Home Insulation, our home insulation company in Toronto appreciates it when homeowners take the initiative to improve the energy efficiency of their home. That being said, there are many common misconceptions about insulation and whether or not attic insulation in Brampton is tax deductible. The truth is that homeowners in Ontario can get a deduction for certain energy-saving home upgrades and purchases through energy rebates, and sometimes this will include upgrading your attic insulation in Brampton.
How To Be Eligible For Energy Rebates
To be eligible for an energy rebate, your attic insulation in Brampton must meet certain criteria.
The first is that it must be installed by a licensed contractor, such as Four Seasons Home Insulation.
Second, the type of insulation you choose must be on the list of qualifying products for the specific energy rebate program you are applying for. For example, if you are looking to get a deduction through the Enbridge Energy Rebates Program, only certain types of attic insulation will qualify.
Once you have met these two criteria, you will need to submit proof of purchase and installation to the government agency administering the energy rebate program. This can usually be done online, and if everything is in order, you should receive your refund or tax credit within a few weeks.
Determining If You Need More Insulation
If your attic doesn't have enough insulation, you could be paying more than you need to on your energy bills. You may also be eligible for a tax credit if you upgrade your attic insulation. To find out if you qualify, measure your attic's insulation and check with the government agency administering the energy rebate program.
Signs You Need To Upgrade Your Attic Insulation In Brampton
If you're not sure whether your attic insulation needs to be upgraded, there are a few key signs to look out for. One is if your energy bills have been steadily rising, even though your energy usage hasn't changed. This could be an indication that your home isn't as well-insulated as it should be, and upgrading your attic insulation could help to bring those costs back down.
Another sign that you might need new attic insulation is if you notice any drafts or cold spots in your home. If there are areas where heat or air conditioning seems to be leaking out, this means that your current insulation isn't doing its job properly. In addition to making your home more comfortable, upgrading your attic insulation can also help to prevent any further damage from occurring.
If you live in an older home, it's also worth checking the condition of your existing attic insulation. Over time, insulation can settle and compress, which reduces its effectiveness. If you think this might be the case in your home, it's a good idea to get a professional opinion before making any decisions about upgrades.
If the above sounds relatable to you, it might be time to install new attic insulation in your Brampton home. Contact Four Seasons to inquire about our attic insulation services and how you can take advantage of Ontario's energy rebates today!