Reasons To Invest In Attic Insulation
Posted in Attic Insulation, on April 08, 2022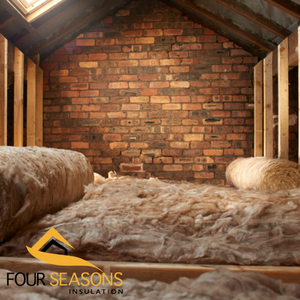 Upgrading your attic insulation in Toronto can be a great way to help reduce your home's heating and cooling costs, allow for healthier indoor air quality and more. The most effective and cost-efficient type of attic insulation in Toronto is spray foam insulation. During installation, spray polyurethane foam fills in any air gaps and seals against air infiltration. This increases the insulation's effectiveness as it creates a thermal barrier between your home and the outdoors. In addition, spray foam insulation in Toronto is more resistant to mold growth than other types of insulation.
Improved Indoor Air Quality
Studies have shown that 1 in every 6 homes in Canada is affected by some form of "hidden" moisture. That could mean mold, or worse, a family health problem.
The #1 reason for poor indoor air quality? AIR LEAKS.
You may not even know there is a problem until you experience some of the symptoms:
Stuffy rooms
Headache and sore throat
Runny nose
Cold drafts coming through windows are also a sign of air leaks.
If you find that your home is uncomfortable in the summer, suspect that your attic has air leaks as well. As an attic insulation contractor, one of the most important things to know is how much insulation your attic needs – and how to provide it properly. Adding insulation to your attic will improve air quality and make a more comfortable and healthy home - but only if you do it right.
Reduced Energy Bills
Insulating your attic is a great way to reduce your energy bills and cut your heating and cooling costs. In fact, home energy researchers at Oak Ridge National Laboratory say that attic insulation can cut heating and cooling costs anywhere from 15% to 65%.
Insulation provides an effective solution because it helps reflect radiant heat from the sun inside your home, keeping the temperature in your attic consistent with the rest of your house. In addition, insulation plays a crucial role in helping to stop air infiltration, which means that more heated air stays in your home, where it belongs.
Improved Comfort
An adequately insulated attic will help keep your entire home more comfortable, regardless of the weather outside. A well-insulated attic is key to comfort year-round. It keeps your home warmer in the winter and cooler in the summer. More heat escapes from a poorly insulated attic than through any other part of the home. With summer fast approaching, investing in attic insulation should be at the top of your to-do list.
Reduced Noise Pollution
Did you know that insulating your Toronto home can reduce outside noise pollution by over 50%? Noisy neighbours, traffic and trains are just some of the sources of noise pollution people in Toronto deal with on a regular basis. Home insulation prevents sound waves from penetrating your home, making it one of the easiest ways to quiet down your surroundings.
Four Seasons Home Insulation is a full-service home insulation company serving the greater Toronto area with high-quality products and workmanship. We provide expert installation of high-quality insulation products and services, including blown-in and spray foam insulation. Contact us today about our services.