What Is The Most Effective Attic Insulation In Mississauga
Posted in Attic Insulation, on April 21, 2022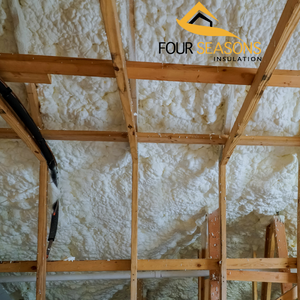 Are you wondering what the most effective attic insulation In Mississauga is? There are many types of insulation options, but one of the most popular options is spray foam insulation for Mississauga homes. Spray foam is known for its strength, energy efficiency and performance.
Understanding Spray Foam Insulation
Spray Foam Insulation in Mississauga is the most commonly used form of home insulation, especially when your home has been built in the last 40 years. This type of insulation is sprayed into the attic and covered with a sheet of plastic that seals it in, keeping moisture and air out. Spray foam insulation is most often used in new construction but can be applied to existing attics if the proper installation procedure is followed.
Spray foam insulation (SPF or sometimes known as Foam Insulation) is the best attic insulating product you can use. Spray foam insulation is a type of polyurethane insulation that expands to 100 times its size once it is sprayed in place. It acts as a vapour barrier to seal in moisture and air leakage and is ideal for attics. Spray foam insulation provides the most effective air sealing, thermal resistance and moisture control of any of the other types of attic insulation products. Spray polyurethane foam has an R-Value of approximately 6.5 per inch and an R-Value per inch comparable to fiberglass, which is approximately 3.7 per inch.
Most spray polyurethane foams are made with either a 2 or 5-pound density, with 5-pound polyurethane having slightly better insulating values.
Spray foam is a type of insulation that has remained effective for decades. It is designed to be resistant to moisture, rot, and insects. It is best installed in cool, dry areas. Spray foam insulation is made from two chemicals that are mixed together and then sprayed into place, expanding as it goes.
When spray foam insulation is installed correctly, it can keep homes warmer in the winter and cooler in the summer. However, homeowners may see symptoms of degraded insulation if it has not been stored or installed properly. It can also break down over time due to moisture and temperature conditions in the attic.
Where To Apply Spray Foam Insulation
Spray foam insulation can be used in areas where moisture or mold are common concerns, including:
Attics
Airtight spaces & crawlspaces (basement)
Garages, Sheds & Commercial Spaces
The walls of your home can easily be air-sealed and insulated at the same time.
Be sure to talk to your local insulation contractor about spray foam for your project.
When it comes to insulation, there are a few different types that you can choose from. However, if you're looking for the best insulation possible, then spray foam is definitely the way to go. Spray foam insulation is one of the most popular options in Mississauga because it is known for being incredibly effective at keeping the heat in or out of a house. Spray foam insulation is a great way to seal off unwanted air and moisture entry. As a result, spray foam insulation can be helpful in reducing energy costs and is also one of the most cost-effective ways to insulate your home. On top of all this, spray foam insulation has a very quick installation process. Contact Four Seasons today to book your attic insulation installation services today.