Mold Prevention Begins With Insulation
Posted in Mold Inspection & Removal, on April 26, 2022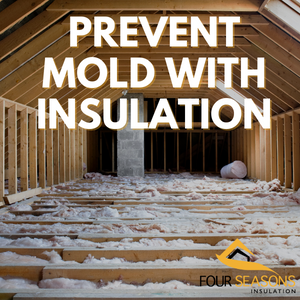 Regardless of how well you clean your home, there are still spaces where mold may take root — and there are none more common than the attic. Mold removal in Toronto is helpful in attics where there is old, insufficient, or out-of-date insulation. Four Seasons has helped thousands of homeowners install insulation to prevent mold growth and humidity buildup as a leading insulation company in Toronto.
How Mold Grows
First, let's cover the basics. Mold grows where there are organic materials, where there is little traffic or disruption, and where there is moisture. Unfortunately, the average attic has all three in spades, especially in the GTA, where attics are generally out of sight and mind.
Mold is a fungus that helps break down organic materials. Without mold, a forest would be full of thousands of fallen trees and leaves and short on healthy soil for things to grow. But, in our homes (which generally have skeletons of wood!), you can appreciate how mold is an unwanted guest — we want to prevent our homes from damage and rot caused by mold growth.
How Insulation Prevents Mold
What role does insulation play in preventing mold growth? The short answer is plenty!
Insulation has several effects across the whole home. There are apparent effects like keeping your home at a stable and comfortable temperature and preventing drafts and air leaks. Insulation also reduces your heating and cooling bills by making your home more energy-efficient and reducing maintenance and wear on expensive appliances like the furnace.
Insulation's ability to help balance temperatures is where you start seeing its effect on mold growth. High indoor temperatures can promote humidity and moisture build-up, and water (as a liquid, gas, or even solid) is the key ingredient for mold growth. Even with perfect conditions, mold will not grow without water.
Attics without good insulation let in plenty of moisture and humid air. Insulation acts as a barrier to prevent exterior moisture from penetrating your home.
Selecting the Right Type of Insulation
At Four Seasons Insulation, we generally recommend two different types of insulation: blown-in insulation and spray foam insulation. These two modern insulation types are flexible and provide excellent coverage in attics. While both have pros and cons, deciding which product will best help your home and prevent attic mold growth is something we can help you decide.
Working with a professional insulation company in Toronto to improve your attic ensures efficiency and safety, eliminating the guesswork that comes with DIY projects. Four Seasons Insulation can answer your questions about ventilation, R-Value, air leaks, longevity and more and help you find the best insulation product to suit your budget and needs. The only way to permanently eliminate attic mold is to do mold removal in Toronto before you upgrade your insulation — and we can help with this too! Contact the Four Seasons team to learn more about attic mold and how insulation can help.