Preparing Your Home For The Winter Months With Home and Attic Insulation
Posted in Attic Insulation, on February 24, 2022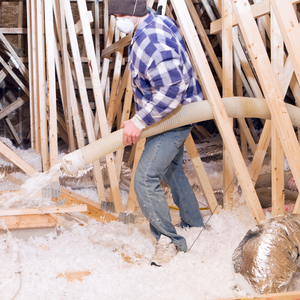 Preparing your home for the winter months is the first step to ensuring that your energy bills will be kept low throughout the cold season. While the foundation of your home is the first thing that comes to mind when it comes to winterizing your home, there are several other factors to take into consideration, especially if you want to save money on your energy bills. Home insulation in Toronto is one key factor in keeping your home warm and comfortable in the winter. Installing attic insulation in Toronto is the best first step you can take toward reducing your energy consumption and lowering your monthly heating bills. An attic insulation upgrade is proven to save you money on utilities. When your attic is properly insulated, it will also help prevent moisture from entering your home through the roof, and help avoid ice dams from forming.
The Importance Of Attic Insulation
If you live in a cold climate, you need to make sure that your attic is properly insulated. This not only keeps your home warmer, but will also help you save money and energy on your heating bill. Insulation also stops excess heat from entering or leaving your home resulting in a warmer, drier and healthier living space throughout the year. Attic Insulation in Toronto is an inexpensive way to lower your energy costs and protect your family, pets, and furniture from excessive heat while staying warm in the winter.
Attic Insulation Installation Services
If you are a homeowner, you probably realize that your home loses a lot of heat through the roof. The attic is actually one of the largest contributors to your home's heating costs each year. Even better, you can cut down on these costs quite easily! By having attic insulation in Toronto, you are ensuring that less heat leaves your home through the roof.
Our team is fully certified and licensed to help you with all of your insulation needs. We use recycled materials for insulation that can significantly lower your energy bills. In fact, we have many long-time clients who are able to cancel their furnace because they don't need it anymore!
We will often go into the attic to inspect the condition of the insulation. If necessary, we can install new stuff to fully insulate your attic. This usually involves blowing cellulose insulation into the attic floor, or installing batts of fiberglass into the attic rafters. The service gets done quickly and efficiently. We provide a free estimate and consultation to ensure that you get exactly what you are looking for. So don't delay! For more information on our company or our services, contact us today
Book Your Insulation Installation Today!
Four Seasons Insulation recommends that homeowners regularly check to ensure that their attic and home are adequately insulated. Four Seasons Insulation offer affordable, affordable attic insulation and other home insulation services for Toronto, Scarborough and the surrounding area. We use only the highest quality insulation products to ensure that your home receives the most efficient and highest quality insulation possible. Contact us today about getting your home ready for winter!