Everything You Need to Know About Mold Removal in the GTA
Posted in Mold Remediation, on December 25, 2020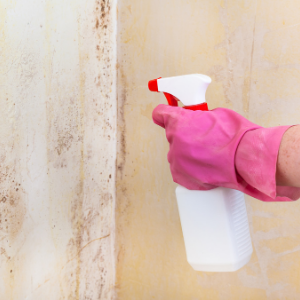 Mold is a naturally occurring substance, so it's not unusual to find an outgrowth in the washroom or laundry room. The thing is, mold needs a high moisture environment to thrive, and areas like the basement and attic are the perfect space.
For the most part, mold is not dangerous, but when mold spores float through the air, new mold outgrowths can grow and spread. Homeowners requiring mold removal in Mississauga or mold removal in Toronto should hire a professional.
Even when a mold outbreak seems manageable, it's better to avoid a do-it-yourself approach. Mold can be quite tricky, and infiltration can be much bigger than it appears. Removal and remediation is better left to a mold specialist.
Mold Growth in the Winter
Mold growth tends to become an issue in winter for a few reasons. When the weather is cold, the warm indoor air rises into the attic and creates condensation – the perfect conditions for mold. This is a good reason to have the attic inspected from time to time and check for mold growth.
Identifying Types of Mold
Although most molds do not pose a danger, it's still important to identify the species and to be sure. A professional technician can identify a mold species based on the colour, growth pattern, and other unique characteristics. In some situations, additional testing may be recommended.
Inspecting / Testing Mold
When mold is suspected, a thorough inspection is a good first step. This will help to determine if the mold is a hazard. If needed, mold testing can verify any potential health risks. Homeowners who need mold removal in Mississauga would do well by choosing a professional for the work.
Possible Hazards of Mold
In general, household mold is not dangerous to occupants. However, certain "toxigenic" mold species can pose a danger, especially for those who are sensitive. In these types of situations, it's important to professionally remove the mold and completely eliminate the original source.
Preventing Mold Growth
Clearly, it's best to prevent mold from growing in the first place. This can be achieved by keeping indoor humidity levels under control and further ensuring optimal air ventilation throughout the home. Also, a properly insulated attic will keep air moisture under control in summer and winter.
For Mold Removal in Toronto Choose Four Seasons Insulation
Four Seasons Insulation provides professional mold removal in Mississauga and mold removal in Toronto. Our highly trained in-house technicians do it all – from inspection to testing, to removal – and we ensure complete safety for workers and occupants.
With mold removal, we isolate the contaminated area; remove and dispose of mold materials; and properly disinfect the space. We maintain the strictest standards and protocols when dealing with mold and rely on 3rd party labs to analyze mold samples.
Find out more by calling 416-727-4181 or visiting our website at www.4seasonsinsulation.ca. Customers throughout the GTA can fill out our online form for a FREE home attic inspection.