Keep the Heat In With Attic Insulation in Toronto
Posted in Attic Insulation, on November 02, 2021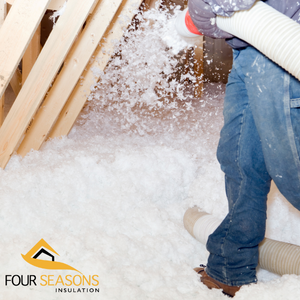 At Four Seasons Insulation, we know that keeping your house warm during the winter months is hard work for your HVAC system. It has to keep the thermostat balanced against all sorts of air leaks, drafts, and more — depending on your home, this can be an uphill battle! Attic insulation in Toronto is the best way to keep your home warm and your furnace running smoothly. Adding to your home insulation in Toronto creates a barrier between you and the cold with the very attractive side effect of keeping your monthly energy bill under control.
Blown-in Insulation
There are two types of insulation that the Four Seasons team prefers for their flexibility and reliability. The first is blown-in insulation, a trusted product that's been used in homes for decades because it is quick and easy to install. Made from post-consumer paper waste, blown-in cellulose insulation is environmentally friendly and can fit into strange spaces or wall cavities where batt-style insulation is tough to install. Best of all, it can be used as an upgrade to existing home insulation in Toronto if you only need a boost.
Spray Foam Insulation
In contrast, spray foam insulation is the latest in insulation technology. It comes with a higher price tag than blown in, but the rewards are greater too. Spray foam insulation is applied as a liquid that expands on contact, creating an air and water-tight seal in your attic. It resists pests and can help strengthen the structure of your building, all while dampening noise and easing your energy requirements. Spray foam insulation works immediately, and our clients often report positive effects within days.
Proper Attic Insulation
Why is attic insulation so important? Think of the attic like a hat for your home. In the summer, it keeps the worst of the heat off of the rooms where you live. During the winter, it keeps a lid on the heat that makes your home comfortable. Without attic insulation, your home would bake in the summer and freeze in the winter — it needs to dress for the weather! Attic insulation provides this critical barrier between the inside and the out, and when your insulation is old, damaged, or inadequate, your comfort and safety can suffer.
Proper Attic Ventilation
Attic insulation goes hand in hand with good ventilation. The two need to be balanced to protect your home from the elements and prevent warm or cool air from going where it's not welcome. At Four Seasons, we carefully inspect every attic before installation so that we can recommend improvements to chimneys, vents, or fans to prevent air leakage or heat transfer. Additionally, our knowledge and experience in helping homeowners improve their home insulation in Toronto means that we can correct past mistakes or make suggestions to ensure ventilation is working as it should. To learn more about attic insulation or ask our team any questions, reach out to Four Seasons Insulation.